Our CBD and Delta 8 tinctures have been given a huge advantage! We believe in providing a true full-spectrum experience, and with the presence of CBN in higher concentration, brings out the power of the other cannabinoids and terpenes in a powerful way. CBN makes an amazing difference in CBD and especially in Delta 8 THC products!
We have 5 specific Terpene Profiles we can add to your oil. Choose one or two blends that may be right for you. Cannabinoids and terpenes work together to achieve what's called the 'entourage effect'. Several studies have shown that terpenes work together to help cannabinoids (like THC and CBD) pass through the bloodstream easier and "lower" the blood-to-brain barrier
You might also like our Full-Spectrum CBD with CBN, just scroll below!
High-quality third-party lab-tested Delta 8 Distilalte, Full-Spectrum Hemp CBD oil, enhanced with the best CBN you can get for the most complete entourage effect! These oils contain under 0.3% Delta 9 THC, to remain in compliance with the Farm Act of 2018. These products are fantastic. 
Choose Natural, Mint, or pick a terpene profile to suit your goals!
Why Utoya Sublingual Oil is The Best
All of our CBD, CBN, and Delta 8 oils are made to be nano-amplified, meaning that their size has been made smaller to give your body the best opportunity to use more of the cannabinoids, more effectively.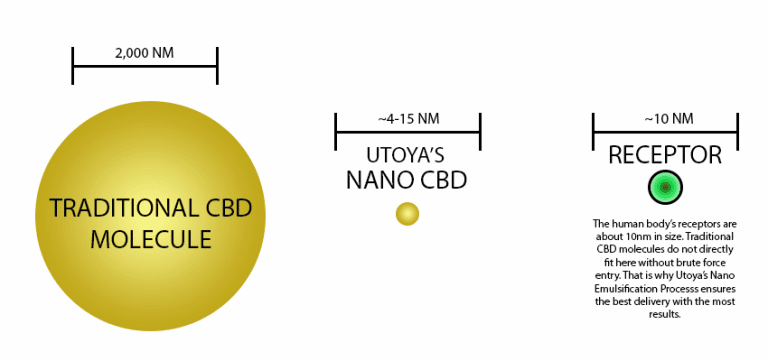 Absorbtion of our Competitor's CBD Oil
0
Absorbtion of Utoya CBD Oils
0
Nano amplification is the process in which we break cannabinoids apart into much smaller molecules, which fit much better into your body's receptors!
Frequently Asked CBD Questions
CBD Oil is legal in most states, however states such as Idaho have banned CBD, hemp, and all of it's derrivitives. To make sure you can order CBD, check out our "Is CBD Legal?" blog post!

CBN when derived from hemp is 100% legal in most states, however, if you are in a state that bans cannabinoid extracts from hemp and cannabis, you may not be able to order.

3

How should I store my CBD?

Sunlight damages cannabinoids, and light in general degrades them. That is why we keep our CBD oil in dark amber bottles. Keep these bottles in your cabinet to protect them from the light. You do not need to refrigerate these oils.

4

How long does this CBD oil last?

If you take 1ml of CBD per day, these 1 ounce bottles will last you one month, or 30 days.

5

What is Full Spectrum CBD?

Full Spectrum CBD is an oil that contains a variety of cannabinoids that includes CBD, and other minor cannabinoids beyond trace amount, such as CBG, CBN, and so forth. These oils will also contain a small amount of Delta 9 THC. The presence of this THC is under 0.3% by volume and is legal by the Farm Act of 2018.

6

Do You Sell Broad Spectrum or THC Free Products?

We used to carry these products, however, people found themselves much happier with the full spectrum and eventually, the product stopped selling overall. We no longer shelf these as they are no longer desirable.

7

Is Utoya CBD sourced from natural and organic resources?

Yes, all Utoya CBD and cannabinoid extracts are derived from high-quality hemp plants that are grown on organic hemp farms.

CBD, by study, is known to be a fantastic anti-inflammatory agent and is known by review to help with things like pain, stress, and anxiety. If you have found that CBD helps you in these ways, you will likely find favor with our product line given it's fantastic process and efficiency. All oils are nano-amplified.

CBN is a fantastic synergistic cannabinoid that helps with the same things that CBD does, with the added benefit of directly interacting with your CB1 and CB2 receptors, making it an effective add-in for our line of oils containing it as a featured ingredient!

Delta 8 THC is one isomer different than Delta 9 THC, the medicinally controlled cannabinoid. Delta 8 THC is much like Delta 9 THC, however, it is not as extreme. While it behaves in many of the same ways, the euphoria is not as strong and it is not known for causing panic attacks, anxiety, or paranoia given the reviews and studies that have been done.  Check out our blog "What is Delta 8?"

11

Do you use Delta 8 Distillate or Isolate?

We use Delta 8 Distillate. Isolates are considered unsafe.

Delta 8 THC is legal in many states, however, some states have regulations on it. Please be sure to check out our page "Is Delta 8 Legal?"!
Ask Your Question About CBD