Description
CBD Beard Oil & Conditioner
A great pair of products to maintain the highest quality beard and mustache. Our CBD Beard oil by itself does wonders, and when paired with the CBD Infused Beard Conditioner, you will really notice the smooth, silky difference in Utoya's beard care product line!
Beard Oil
Utoya's CBD-infused Beard & Mustache Oil is expertly formulated to keep your beard and mustache soft and touchable. With Organic Moringa oil, Marula Oil and Hemp Seed Oil and Full Spectrum CBD, those facial hairs will feel soft and silky. Plus your skin underneath will feel soothed and nourished. Add a little Castor Oil to tame those hairs into place and your beard and mustache will look and feel well-groomed and snuggly soft. Gently scented with rejuvenating Ginger, Coriander, and Frankincense, Sandalwood essential oils.
Organic Castor (Ricinus communis) Oil, Organic Moringa (Moringa oleifera) Oil, Marula Oil, Frankincense (Boswellia carterii) Essential Oil, Organic Hemp (Cannabis sativa) Oil, Ginger (Zingiber officinale) Essential Oil, Coriander (Coriandrum sativum) Essential Oil Full Spectrum CBD at 200 mg per ounce
Beard Conditioner
Enhance softness and gentle curls in any length of beard with this popular and easy-to-use conditioner.
Perfect for
Any length of beard or rough curly hair to soften strands
Description
A gentle white conditioner scented with our Men's essential oil blend. 4 Ounce
Ingredients
De-Ionized Water
Pomegranate Fruit Juice Powder Certified Organic
Vegetable Glycerin Certified Organic
DL panthenol Pro-Vitamin B5
Sodium Bicarbonate Baking Soda
Lactic Acid 88% FCC
Phenoxyethanol
Tetrasodium Glutamate Diacetate
Hydrolyzed Quinoa Protein
Guar Gum Certified Organic
Full Spectrum CBD 50 mg per ounce
Avocado Oil Refined
Daikon Seed Extract
Behentrimonium Methosulfate and Cetearyl Alcohol Flakes
Summary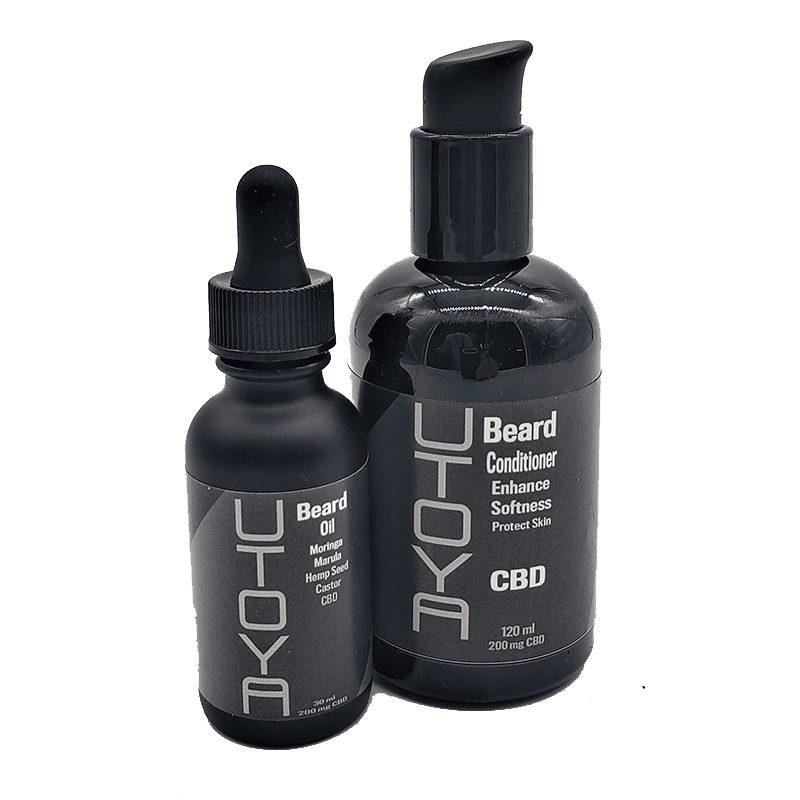 Author Rating
Brand Name
Product Name
CBD Beard Oil + CBD Infused Beard Conditioner Beard Bundle
Price
Product Availability