Description
Bulk Delta 8 THC Sour Gummy Worms – By The Pound
Sour Gummy Worms are here! Finally, there is a way to enjoy something sweet and sour, while also getting a great buzz! These Sour Gummy Worms are dosed at 40mg of Delta 8 THC each, and you'll get 81 worms in a pound! You are able to repackage for retail, enjoy yourself, or they make a great gift for the holidays and birthdays!
Delta 8 THC Sour Gummy Worms
One of the most popular gummies is now infused with the incredible power of Delta 8 THC. These sour gummies are potent and carry more Delta 8 THC than our organic fruit slice gummies. The Sour Gummy Worms contain 40mg each of Delta 8 THC. These delta 8 gummies come in a large sealed bag.
Each Gummy Worm has approximately 40 mg of Delta 8 THC
approximately 81 worms per pound with MOL 3160 mg D8 per pound
They deliver a powerful head and body sensation that will have you feeling amazing. These fruity and sour treats pack the perfect punch of Delta 8 THC. Buy a pound or save more with 5lbs. Great for the Holidays and as gifts!
Ingredients:
Organic Glucose Syrup (Wheat), Organic Cane Sugar, coconut oil, Pectin, Citric Acid, Ascorbic Acid, Natural Flavors, Natural Colors (organic concentrated apple, organic carrot, organic pumpkin, organic black currant), Wheat Starch. approximately 40 mg of Delta 8 THC each.
Manufactured on shared equipment with milk, soy, coconut, fish gelatin and sulfates
Contains: Wheat
These products contain less than 0.3% Delta 9 THC. This product is in compliance with federal law under the Farm Act of 2018.
Summary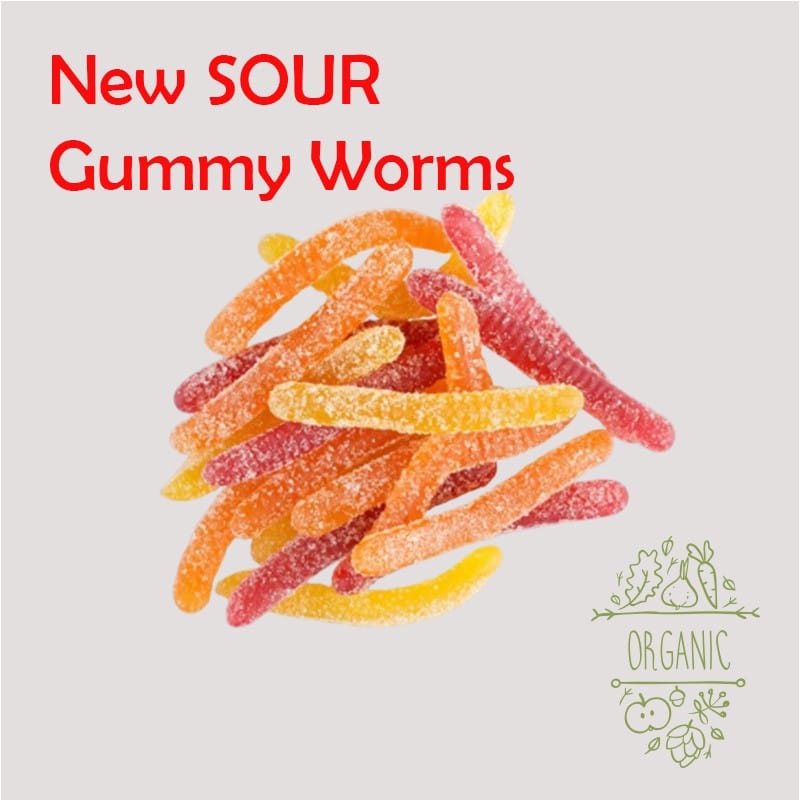 Author Rating
Brand Name
Product Name
Bulk Delta 8 Edibles: Sour Gummy Worms 40mg
Price
Product Availability