Description
CBD Plus Brain Booster
The newly formulated CBD Plus Brain Booster is an amazing blend, which benefits overall body function and health and is even said to help slow aging! A general memory and vitality support. For athletes, this blend aids stamina with herbs that support blood oxygen levels during workouts. All these benefits plus the benefits of a nano-emulsified hemp-derived full-spectrum CBD
Benefits Overall Body Function and Health
Great Memory, Focus and Vitality Support
No Preservatives, Gluten and Dairy, Synthetic Colors, Artificial Flavors, or Sweeteners
All Herbs and Hemp are Organically Grown, Ethically Wild Harvested or Selectively Cultivated
FDA cGMP compliant, Non-GMO, Kosher Certified and Vegan Certified
Why Is Nano Important?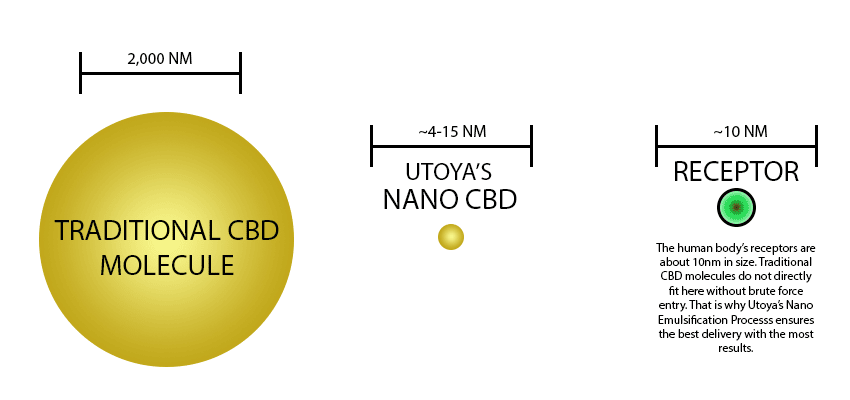 In the figure above, we see that the traditional CBD molecule is much larger in the nano-world, where the human body's receptors have a preference for molecules between 1 and 10 nanometers, the traditional CBD molecule greatly exceeds that hundreds of times over. Utoya took advantage of this knowledge and brought forth the nanoemulsion process, thus increasing our bioavailability and overall efficacy. The whole purpose behind nano emulsified products is to ensure the best possible delivery, less waste, and more power.
With this blend, you will get 1000mg of Nano-Emulsified Full Spectrum Hemp-Derived CBD.
* INGREDIENTS: Gotu Kola Herb, Ginkgo Leaf, Hawthorn Berry, Feverfew Herb, Ginger Root, Alfalfa Leaf, Horsetail Herb, Cayenne Pepper, 1000 mg Full or Broad Spectrum CBD. USP Grade Vegetable Glycerin and Purified Water
NOTE: Consult your healthcare provider if you are pregnant, nursing, taking medication, or have a medical condition. Contains capsicum (cayenne pepper), people with allergies to capsicum should not use this formula.
SUGGESTED USE: 1ml (20 drops) 1 to 3 times a day, or as needed. Shake well.
SUPPORT SYSTEM: Memory Support, Circulatory System, Inflammation, Anxiety