Description
CBD Plus Energy Blend
Organic Energy Blend :
This newly formulated CBD Plus blend has mate', guarana' and green tea to give that natural caffeine tonic lift to energy. Our new blend features nano-emulsified CBD, which improves delivery significantly! The CBD Plus Energy blend has health supporting herbs that have antioxidants, enhance oxygenation in the brain, and can strengthen your overall health. The Energy Blend is a metabolism-enhancing formula that one can feel good about taking when pushing to the limit. All of this with the powerful potential benefits of CBD.
Why Is Nano Important?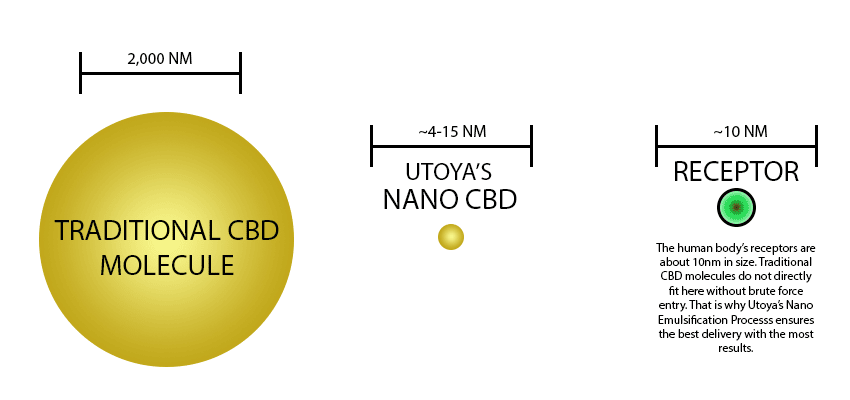 In the figure above, we see that the traditional CBD molecule is much larger in the nano-world, where the human body's receptors have a preference for molecules between 1 and 10 nanometers, the traditional CBD molecule greatly exceeds that hundreds of times over. Utoya took advantage of this knowledge and brought forth the nanoemulsion process, thus increasing our bioavailability and overall efficacy. The whole purpose behind nano emulsified products is to ensure the best possible delivery, less waste, and more power.
With this blend, you will get 1000mg of Nano-Emulsified Full Spectrum Hemp-Derived CBD.
Benefits of Energy Blend :
Energy Blend Enhances Oxygenation in the Brain
Nano-Emulsified Hemp-Derived Full Spectrum Hemp CBD
Natural Caffeine Lift for Energy and Metabolism
No Preservatives, Gluten and Dairy, Synthetic Colors, Artificial Flavors, or Sweeteners
All our Herbs are Organically Grown, Ethically Wild Harvested or Selectively Cultivated
FDA cGMP compliant, Non-GMO, Kosher certified and Vegan Certified
*INGREDIENTS: USP Grade Vegetable Glycerin and Purified Water Sour Cherry Fruit (Tart), Ginkgo Leaf, Mate Leaf, Guarana Seed, Green Tea Leaf, Gotu Kola Herb, Hawthorn Leaf, Ashwagandha Root, Eleuthero Root, 1000 mg CBD per ounce