Description
CBD Plus Immune Mushrooms (Immunity)
CBD Plus Immune Support combines the health-supporting qualities of five individual mushrooms and nano-emulsified hemp-derived full-spectrum CBD.
Each mushroom has its own unique qualities. Our mushroom blend formula works together to build, protect, and balance our bodies. Mushrooms have been shown to support many different types of general health. For instance, they may promote healthy cellular function, improve immune function, support cardiovascular health, and help maintain healthy cholesterol levels.
Why Is Nano Important?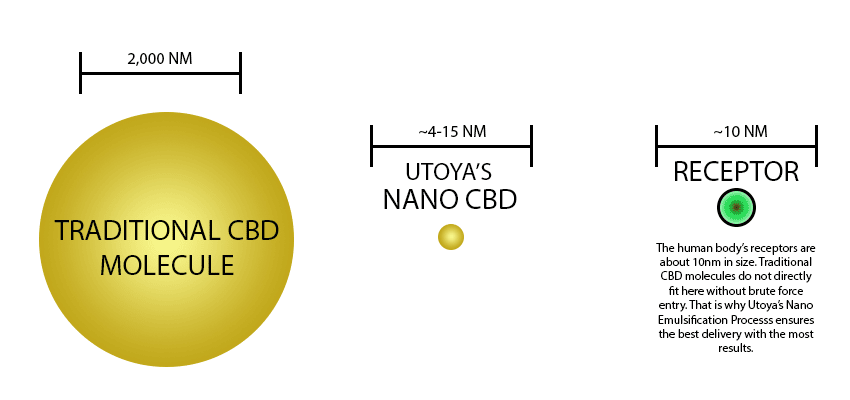 In the figure above, we see that the traditional CBD molecule is much larger in the nano-world, where the human body's receptors have a preference for molecules between 1 and 10 nanometers, the traditional CBD molecule greatly exceeds that hundreds of times over. Utoya took advantage of this knowledge and brought forth the nanoemulsion process, thus increasing our bioavailability and overall efficacy. The whole purpose behind nano emulsified products is to ensure the best possible delivery, less waste, and more power.
With this blend, you will get 1000mg of Nano-Emulsified Full Spectrum Hemp-Derived CBD.
Health Benefits Associated With Mushrooms
Mushrooms have been used for nutritional and healing support for thousands of years. Some believe that many of the compounds in the mushroom can treat or prevent certain health conditions, including:
High blood pressure
Asthma
Diabetes
Cancer
IBD (Inflammatory bowel disease)
Utoyas CBD Plus Immune Support is a great enhancement to help you stay healthy while getting your daily dose of CBD. Let's take a closer look at some of the beneficial ingredients in our CBD Plus Immune Support formula.
Agaricus Blazei Mushroom
Agaricus Blazei Mushroom is a type of medical mushroom that has been used in folk medicine for centuries. Some believe that this medical mushroom can apply antioxidant, anti-inflammatory, antimicrobial, anti-tumor, and hypoglycemic effects. Studies have also shown that it may help to treat or prevent infections and many different types of diseases.
Maitake Mushroom
Maitake Mushroom means "dancing mushroom" in Japanese. This type of mushroom got its name because its incredible healing powers made people "dance with happiness" upon finding it in the wild. Since they may enhance the state of non-specific resistance in stress, these herbs can be very beneficial.
Reishi Mushroom
Some studies have shown that these molecules within the Reishi Mushroom may be responsible for many different types of health benefits. For instance:
Boost the Immune System
Anti-Cancer Properties
Fight Fatigue and Depression
Support Heart Health
Improving Good Cholesterol
Control Blood Sugar
Shiitake Mushroom
The Shiitake Mushroom is considered a medical mushroom in some forms of traditional medicine. Therefore, it is one of the most popular mushrooms worldwide. The compounds in this mushroom may lower cholesterol, support heart health and boost immunity. Moreover, other potential benefits include antibacterial and antiviral effects. In addition, mushrooms are the only natural plant source of vitamin D and may help to build strong bones since
Lion's Mane Mushroom
Lion's Mane Mushroom is a therapeutic mushroom. As a result, it is used in many health supplements. Therefore, the substances in the Lion's Mane Mushroom may help to support health function of the brain, heart and stomach.
Turkey Tail Mushroom
The Turkey Tail Mushroom is named for the colorful pattern that resembles the feathers on a turkey. Researchers have noted that this mushroom may provide a huge boost to your immune system and have many potential benefits for instance:
Preventing and treating the common Cold and Flu
Aids in Digestion
May Help Patients with HIV/AIDS
Helps Treat Human Papilloma Virus
Conclusion
In summary, this impressive list of benefits is due in part to polysaccharides, a carbohydrate that heavily benefits the immune system, blood sugars, and cholesterol levels. These mushrooms are also amphoteric, which means that they harmonize and bring your body into balance. As a result, mushrooms may help your body adapt to stressors, strengthen your body's immune defensive mechanisms, and strengthen energy and vitality. In conclusion, the antioxidants in these mushrooms help protect against harmful free radicals and help strengthen resistance to immune challenges.
Ingredients
USP Grade Vegetable Glycerine and Purified Water Agaricus Blazei Mushroom, Maitake Mushroom, Reishi Mushroom, Shiitake Mushroom, Lion's Mane Mushroom, Turkey Tail Mushroom. 1000 mg CBD per ounce
Note
Consult your healthcare provider if you are pregnant, nursing, taking medication, or have a medical condition.
Suggested use
1 Dropper full 1 to 3 times a day. Shake well. Take up to three times a day.