Description
CBD Plus Sleep tight
Newly formulated, this product helps promote relaxation and relieve sleeplessness. Crafted with all-natural herbs and nano-emulsified hemp-derived full-spectrum CBD. This blend is calming and soothing to the digestive system which is often a contributor to nervousness, muscle tension, and restlessness. Make your night a dream, and sleep tight!
Why Is Nano Important?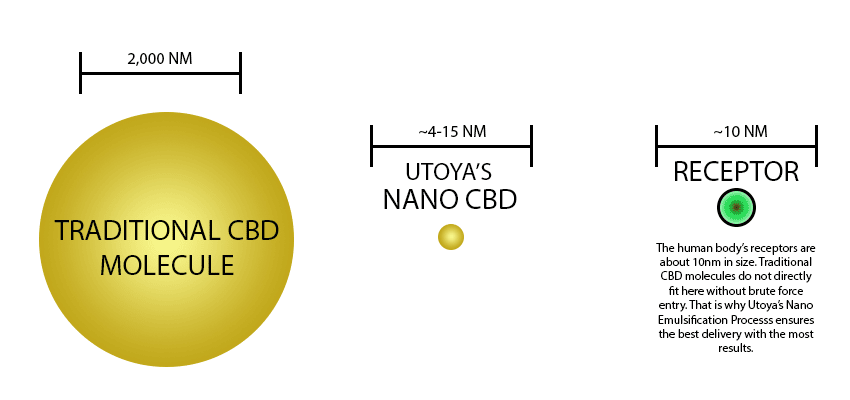 In the figure above, we see that the traditional CBD molecule is much larger in the nano-world, where the human body's receptors have a preference for molecules between 1 and 10 nanometers, the traditional CBD molecule greatly exceeds that hundreds of times over. Utoya took advantage of this knowledge and brought forth the nanoemulsion process, thus increasing our bioavailability and overall efficacy. The whole purpose behind nano emulsified products is to ensure the best possible delivery, less waste, and more power.
With this blend, you will get 1000mg of Nano-Emulsified Full Spectrum Hemp-Derived CBD.
Ingredients: USP Grade Vegetable Glycerine, Purified Water, Lavender Flower, Hops Flower, Skullcap Herb, Passionflower Leaf, Schisandra Berry, Anise Seed, Licorice Root. melatonin 5-7 mg per dropper, Full spectrum CBD 1500 mg per 30 ml
NOTE: Consult your healthcare provider if you are pregnant, nursing, taking medication, or have a medical condition. Contains capsicum (cayenne pepper), people with allergies to capsicum should not use this formula.
SUGGESTED USE: SUGGESTED USE: 1 to 2 full droppers before bed. Shake well before each use.