Description
CBD Rub
CBD muscle tub combines the relief of a full spectrum CBD and the supremely relaxing icy-hot sensation. Therefore, the combination of cooling menthol, warming capsicum, and camphor oils make our CBD Muscle Rub one of a kind. It doesn't leave a greasy residue and absorbs quickly.
CBD Muscle Rub makes for a perfect massage experience in a spa setting and likewise, great for sore muscles and post-gym or after workout relief.
Our CBD Muscle Rub contains menthol and capsaicin. Menthol is a natural compound found in certain plants and induces tingling and cooling sensations when applied topically. In addition, Menthol is considered a safe and effective substance, by the FDA, for the treatment of common cold symptoms. Capsaicin is the active ingredient in chili peppers.
Even more, our CBD Muscle Rub may be beneficial for many discomforts.
Instructions For CBD Soothing Muscle Rub
For best results, massage a generous portion to the desired area. Do not apply to open wounds. Do not use it on the face. Do not use near eyes. Do not consume.
ACTIVE INGREDIENTS IN THE CBD CREAM:
Full-spectrum CBD 125 mg per ounce (NOT an Isolate)
organic aloe leaf juice
menthol & capsicum
camphor oil
muscle essential oil blend
Ingredients: Organic Aloe Leaf Juice, Meadowfoam Seed Oil, Menthol Crystals, Capsicum Fruit Oleoresin, White Camphor Bark Oil, Sweet Basil Leaf Oil, Black Pepper Oil, Roman Chamomile Flower Oil, German Chamomile Flower Oil, Cinnamon Leaf Oil, Citronella Oil, Eucalyptus Leaf Oil, Helichrysum Flower Oil, Ginger Root Oil, Pink Grapefruit Peel Oil, Juniper Berry Oil, Lemongrass Oil, Peppermint Oil, Pine Needle Oil, Ravensara Oil, Rosemary Leaf Oil, Full spectrum CBD Spearmint Oil, Wild Oregano Oil, Glycerin, Witch Hazel Water, Organic Alcohol, Phenoxyethanol, Carbomer, Triethanolamine, Tetrasodium Glutamate Diacetate.
How Do CBD Topicals Work?
Cannabis-infused lotions, salves, oils, sprays, and other transdermal methods of relief work by binding the cannabinoids to cannabinoid receptors. These receptors are called CB1 and CB2 receptors and are found throughout the body. These receptors are activated either by the body's naturally-occurring endocannabinoids or by cannabis compounds known as cannabinoids and terpenes (e.g., THC, CBD, Beta-caryophyllene, etc.).
The graphic below shows the structure of our skin, and where cannabinoids are able to seep through and begin to interact with our endocannabinoid systems.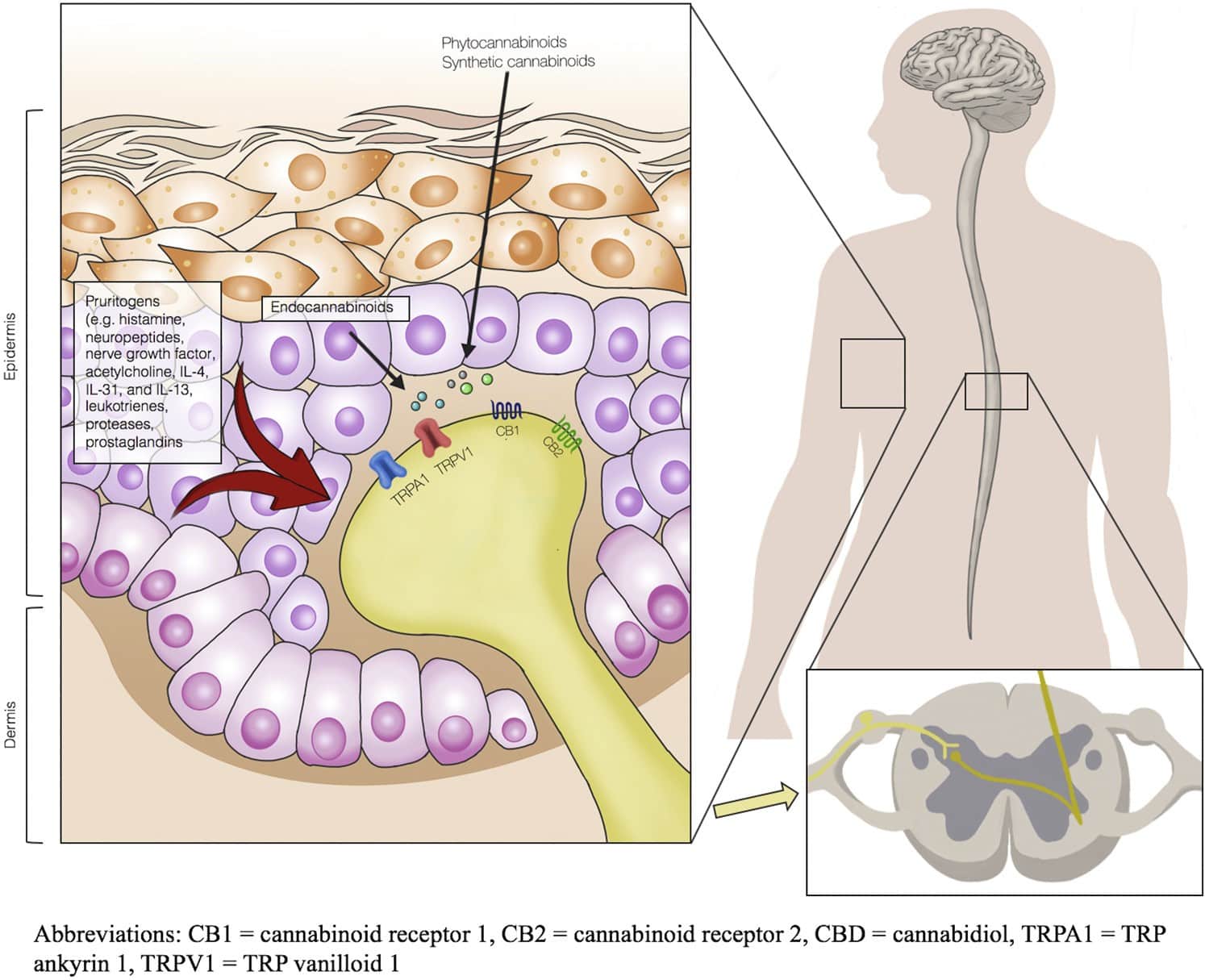 A rub infused with cooling menthol and peppermint is a great way to wind down from a workout or hike. Even if a topical contains active THC, it still won't induce that intense "high" or euphoria you might expect to get from smoking or ingesting cannabis.
With most topicals, cannabinoids can't breach the bloodstream; they only penetrate the local area for localized relief.