Description
10 pack with Display Case: Delta 8 Disposable Vapes – 1 Gram
Catch your customers' eye with our display case, complete with 10 of our high-quality delta-8 THC disposable vapes!
Our 1 gram delta 8 disposable vape is one of the most potent and balanced Delta 8 disposable vapes available, Our high-quality ceramic coil is far superior to traditional disposables. You won't really feel like throwing this one away! This disposable delta-8 THC vape cart does more than just provide even burns and more reliable performance with no intrusion of metals. The unique selection of our disposable vapes has made these vapes long-lasting, durable, and discreet! Also rechargeable to get to the last drop.
This a very pure, very concentrated vape product. It may be harsh on the throat to those who are not accustomed to concentrated cannabinoid products. Take small puffs. Do not exceed 3 seconds per puff.
You can puff on them longer, though it stands to note that you may feel a sort of "sneezing" sensation in your nostrils, and eyes if you do this. Extended hits will gradually degrade the life of the battery quicker. For the best results, don't puff like a competition vapor champion. Enjoy it.
| | |
| --- | --- |
| Type | Disposable |
| Dimension | 93.1*16.5*8mm |
| Battery Capacity | 300mAh |
| Tank Capacity | 1.0ml |
| Output Voltage | 3.7v |
| Mouthpiece Capping Method | Snap-On |
| Activation | Inhale Activated |
| Battery Casing Material | Aluminum Alloy |
| Casing Finish | Rubberized matte paint (soft touch) |
| Tank Material | Medical Grade PCTG |
| Coil Material | iKonic Ceramic Coil |
| Resistance | 1.7Ω |
| Intake Hole | 2*1.8mm |
| Center Post | 316 Stainless Steel |
| Charging Port | Mini USB |
Remove the disposable battery from the box
Directions:
Remove the protective covering from the mouthpiece
Place your lips to the mouthpiece, and begin to puff
After a few short puff-pulls, your Delta 8 Disposable Vape is Ready to go!
Inhale puffs as you please, and enjoy!
Turning your device ON/OFF
Your Disposable Vape is fully charged simply draw on the device to activate, there is no activation or on/off button. And if your battery gets low You CAN recharge to get every last drop.
Using Your Device
This Disposable Vape is inhale-activated. Once the device is turned on, simply inhale to pull a draw.
DO NOT DRIVE OR OPERATE ANY MACHINERY WHILE USING THIS PRODUCT
Do not use if pregnant, nursing, or if you have any diagnosed or undiagnosed health conditions. If you are taking medications, consult a physician before using this product. Must be 21 years or older to purchase or use.
Delta-8 THC is Federally Legal, and legal in most states. Check your state laws to confirm.
If you are looking for something smaller, look at our Delta 8 THC 1/2 Gram Disposable Vape Cartridges Display Case for a half gram disposable.
FDA Disclaimer:
These Delta 8 Disposable Vape products are not intended to diagnose, cure, treat, or prevent any illnesses, sicknesses, diseases, ailments, or injuries. The FDA does not review these products or statements. For the best information regarding your health, speak with your licensed health practitioner.
Summary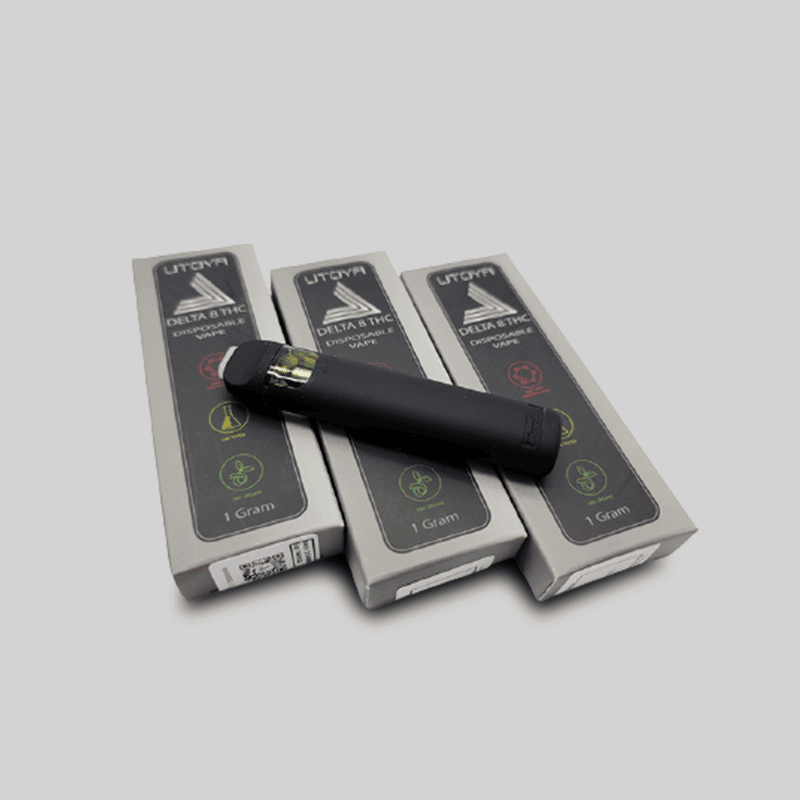 Author Rating
Brand Name
Product Name
Delta 8 Vape Cartridge - 1/2 Gram (.5g)
Price
Product Availability