Description
Half Gram Delta 8 Vape
Our 1/2 gram delta 8 vapes are one of the most potent and balanced Delta 8 disposable vapes available. Our high-quality ceramic coil is far superior to traditional vape cartridges. This a very pure, very concentrated vape product. It may be harsh on the throat to those who are not accustomed to concentrated cannabinoid products. Take small puffs. Do not exceed 3 seconds per puff.
Directions
Open the box
Remove the disposable battery from the box
Remove the protective covering from the mouthpiece
Remove the protective covering from the bottom of the vape cartridge
Place the bottom of the vape cartridge, and line up the threads to a 510 compatible vape battery
Twist the vape cartridge to the right so the threads begin to tighten onto the vape battery
Twist the vape cartridge till it is just barely finger tight, make sure it has a slight bit of looseness to it, so that way the airflow is not blocked.
Place the mouthpiece (top of the vape cart) to your lips.
Press and hold the button to activate the vape battery's heating mechanism and begin to inhale. Hold this down for about 3 seconds. This part is preference. The longer you hold the button down, the more vape you will use.
We don't suggest that you hold this in for any amount of time, just inhale and exhale comfortably.
DO NOT DRIVE OR OPERATE ANY MACHINERY WHILE USING THIS PRODUCT
Do not use if pregnant, nursing, or if you have any diagnosed or undiagnosed health conditions. If you are taking medications, consult a physician before using this product. Must be 21 years or older to purchase or use.
Delta-8 THC is Federally Legal, and legal in most states. Check your state laws to confirm.
If you are looking for something larger, look at our Delta 8 THC 1 Gram Vape Cartridges for a full-sized cartridge
FDA Disclaimer:
These Delta 8 Disposable Vape products are not intended to diagnose, cure, treat, or prevent any illnesses, sicknesses, diseases, ailments, or injuries. The FDA does not review these products or statements. For the best information regarding your health, speak with your licensed health practitioner.
Summary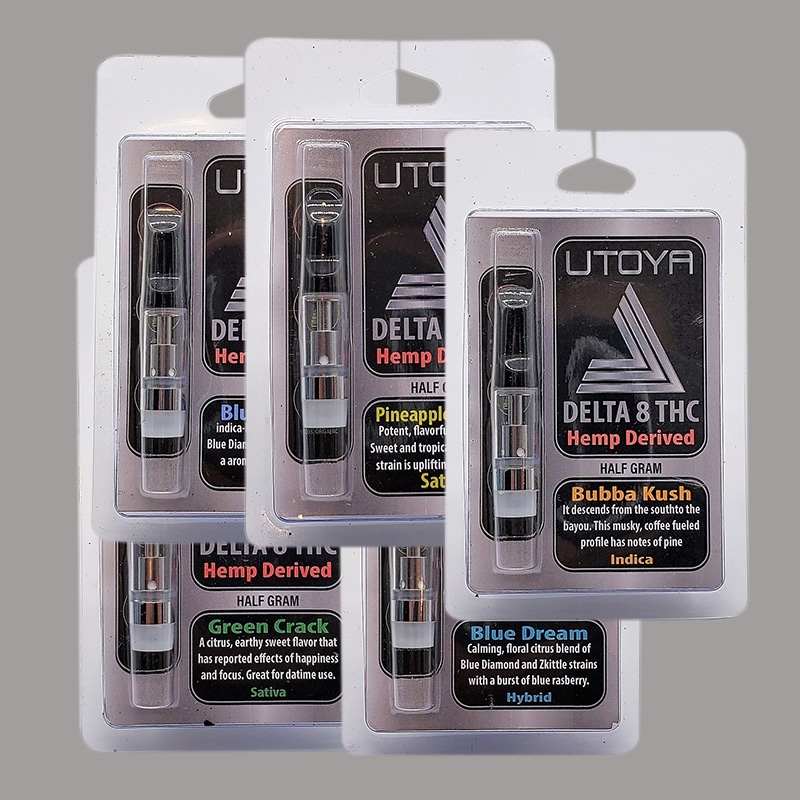 Author Rating
Brand Name
Product Name
Delta 8 Vape Cartridge - 1/2 Gram (.5g)
Price
Product Availability