Description
Spa Massage Oil
Massage Therapists of all types will be pleased to work with this carefully crafted oil blend. One which provides an incredibly luxurious, smooth feel, with long-lasting slip, without feeling heavy or greasy. All with the relaxing and healing qualities of Arnica. Through scientific research, it was discovered that arnica oil has anti-inflammatory and antimicrobial properties. Arnica oil helps with Bruises, sprains, and swelling due to fractures. Also beneficial for muscle aches, pulled muscles, spasms, and rheumatic pain. All of these great oils are infused with our Broad Spectrum CBD which is used to help reduce inflammation and relieve pain. Relax and enjoy this luxurious product. Choose from one of 6 different essential oil enhancements to personalize your experience. Treat yourself to the best massage experience with this powerhouse massage oil. Share it with your massage specialist, they will love you for it. So pick your favorite scent and give this great product a try today.
Ingredient Super Stars
Is full of antioxidants and fatty acids for a healthy complexion
Organic jojoba oil has anti-inflammatory properties that help to tame chaffing and chapping, reduce redness caused by drying, ease the effects of eczema and rosacea, and keep skin calm and comfortable. The Vitamin E and B-complex vitamins in the Jojoba oil help in skin repair and damage control adding value to the massage oil.
Meadowfoam seed oil
Arnica – Arnica oil has anti-inflammatory and antimicrobial properties and is a great asset in massage oil.
Broad Spectrum CBD – Topical CBD products can help address pain or inflammation in a specific area of your body. T assist in joint and muscle pain. The product will not enter your bloodstream through the skin.
Vitamin E
is an ingredient in many skincare products; especially those that have anti-aging benefits.
Summary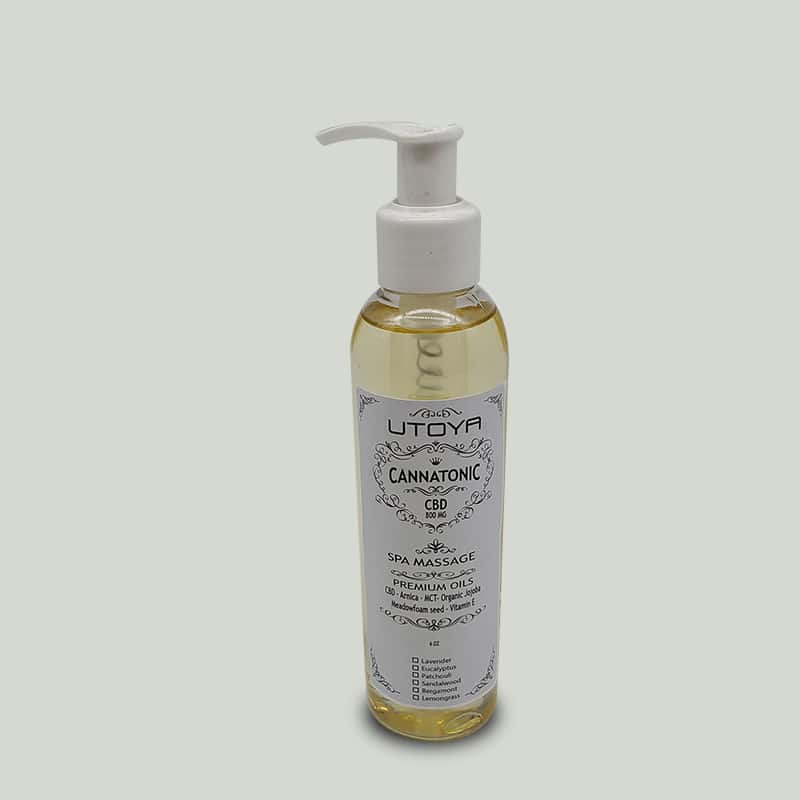 Author Rating
Brand Name
Product Name
Spa Massage Oil Infused With Full Spectrum CBD (800mg / 8 oz)
Price
Product Availability