Description
ATMOS Kiln RA – Limited Edition Print + Disposable Vape Cart + Delta 8 Shatter
This is the limited edition print release, these will not stay long so get yours before they are gone!
What you get:
Atmos Kiln RA (LIMITED EDITION)
Charging Cable For Atmos Kiln RA
Dab Scooper (Small)
Replacement Rubber Bands (x5)
Small Hex Key Tool
Atmos Kiln Concentrate Atomizer
User Manual For Atmos Kiln
1 Gram of Delta 8 Shatter (Dab/Extract/Concentrate)
1 Gram Disposable Delta 8 Vape Cartridge
The Atmos Kiln RA builds upon the original Kiln attachment by introducing revolutionary rebuildable atomizers to the iconic waxy heating attachment. And the Kiln RA Kit comes with everything you need to jump into the world of wax consistency product vaping. Easy to use and maintain, the Kiln RA's deep ceramic chamber is capable of handling an impressive amount of product, satisfying one of the biggest requests of waxy vapers. Renowned for its versatility, the Kiln RA is equipped with an advanced dual post system that makes changing your ceramic coils faster and more convenient than ever. The device uses a powerful and portable 950mAh lithium-ion battery, complete with Dual PCB/IC Protection and Atmos' patented spring-loaded connection to prevent overcharging and shortages. The Kiln RA firmly establishes itself as one of the premiere wax consistency attachments today.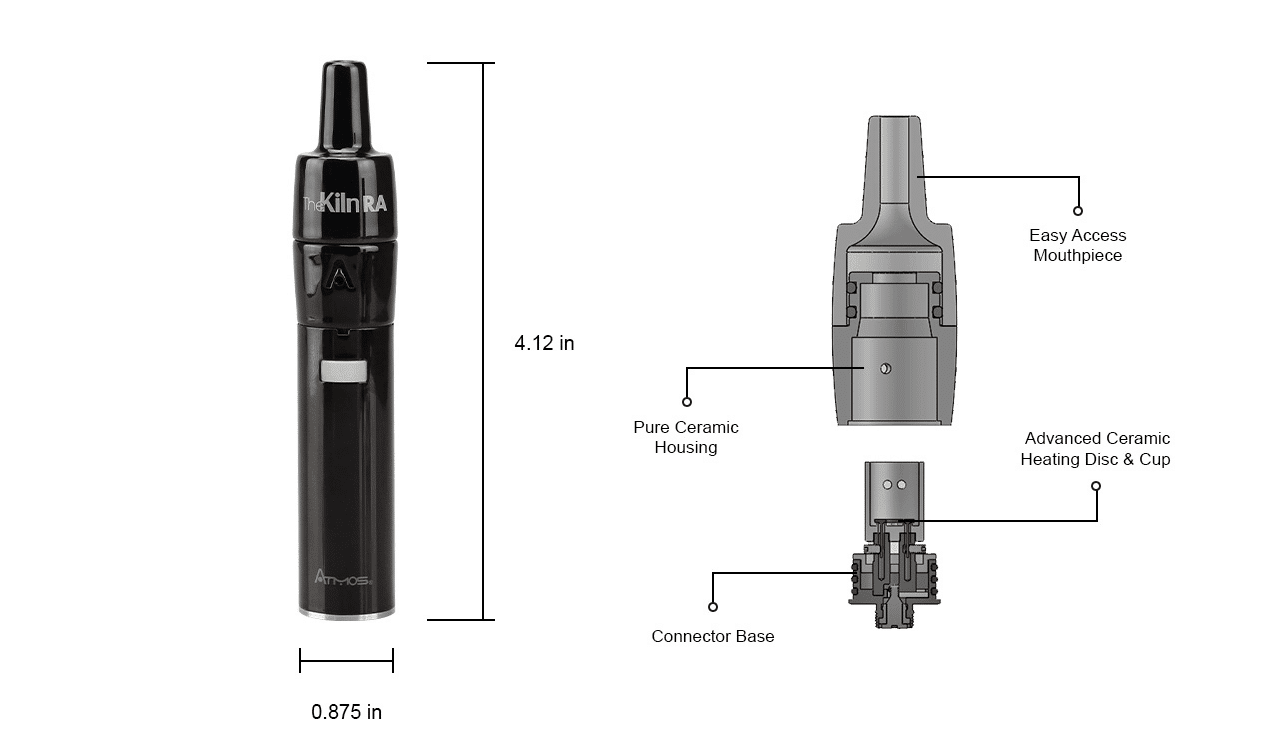 Notice: To ensure peak performance, when using the Kiln RA with a variable wattage battery, we recommend using a range between 5-15 Watts. If you are using a temperature control battery with the Kiln RA, we recommend a temperature between 300 and 400 degrees. When using the Kiln RA, fire in intervals of about 3-4 seconds to avoid overworking the ceramic heating disc. Using settings higher than those outlined here may cause damage to the heating element. The Kiln RA will only work with batteries capable of handling 0.7ohm attachments.
Caution: Pulsing rates and discharging rates vary with different brands of batteries, so these settings will not be true for all brands of batteries. We highly recommend starting at 5 Watts and moving up slowly if needed.
How Long Should an Atmos Kiln RA Atomizer Last?
This will depend on how frequently you vape. For a moderate vaper, you should get a good two weeks out of an atomizer.
What does an Atomizer do?
The atomizer is the coil of your vape tank. The atomizer is the key component in vaporizing e-Liquid. The term atomizer may also refer to the entire vape tank, depending on the context.
What is a concentrate atomizer?
A concentrate atomizer is an atomizer found on devices that heat concentrates (DAB devices). With these devices, you often place your concentrate directly onto the heating element.
Do you need an atomizer to vape?
Yes. Without an atomizer, your device will be unable to heat your concentration or e-Liquid.
Does this kit come with an atomizer?
Yes. This comes with one Kiln RA atomizer.
Our 1 gram D8 vape cartridge is one of the most potent and balanced Delta 8 blends available. Carefully crafted with high-quality terpene profiles, and a combination of CBD, CBN, and CBC make this designer vape cart highly sought after.
This potent vape blend is placed in our high-quality ceramic coil cartridges.
Even burns
Reliable performance
No intrusion of metals.
Each THC delta 8 vape cartridge contains approximately:
1000 mg total extract
~850-920 mg D8 THC 0% D9 detected. Check the QR code on your product for the most complete and up to date COA
~50-100 mg CBD, CBN, CBC, & organic terpenes
DO NOT DRIVE OR OPERATE ANY MACHINERY WHILE USING THIS PRODUCT
Do not use if pregnant, nursing, or if you have any diagnosed or undiagnosed health conditions. If your taking medications, consult a physician before using this product. Must be 21 years or older to purchase or use.
Directions
Our Delta 8 Vape cartridge is ready to go out of the box! Simply screw in your new vape cart and enjoy. Review the instructions below to begin.
Start by removing the protective cover from the threaded bottom of the vape cart
Attach the vape cartridge to a 510 compatible battery
Twist the cartridge onto the vape battery.

Do not twist the cartridge too tight.
Twist it to a light finger-tight grip.

Remove the protective cover from the mouthpiece
Place your lips on the mouthpiece.
Inhale, and activate the vape battery by pressing the button or trigger.
Do not unscrew the mouthpiece.
Keep at room temperature and upright to prevent leaking.
Troubleshooting Utoya Vape Cartridge – Utoya Vape Cartridge Not Working Correctly
While this is uncommon for most of our cartridges, some people may experience clogging. This is because of the purity of the extract. Vape cartridges left alone for long periods of time tend to become sticky.
How To Fix A Clogged D8 Vape Cartridge Safely:
Remove your vape cart from your battery
Hold the cartridge by its mouthpiece
Using a hairdryer carefully heat and slowly rotate the vape pen, making sure to heat the entire glass surface of the cartridge.
Do not get the vape pen too hot! You will not need much heat to accomplish better flow. 

No lighters
Do not use excessive heat
Don't push your vape battery or try to use it as an excessive heat mechanism
99.99% of our customers who have had this problem that followed these steps were able to get their vape cartridge back in working order. If you are still experiencing problems, and you did not use excessive heat, you may contact us and we will be happy to assist you!
---
Delta 8 Shatter – Utoya's Premium Delta 8 Shatter
These Delta 8 dabs are Utoya's favorite new addition to the line-up. These tasty delta 8 shatter dabs are sure to pack the punch you are looking for. You don't need to change how you are dabbing, choose your preferred device such as a dab rig and banger with a nice carb cap or get a vaporizer to enjoy a controlled temperature. Regardless of your device, you will be sure to enjoy these well-crafted delta 8 shatters. Available in glass 1 gram jars.
Taste:
This is a clean shatter, it's initial inhale is very smooth but nearly flavorless though it has its delta 8 taste for certain. It has a slight fresh earthy flavor. This shatter exhales very smoothly, and with it, you will find it's more earthy after tones, still light and very pleasant.
How Does It Feel?
Delta 8 varies from person to person, however, our team tried it themselves and said it was a smooth, focused, uplifted sort of a feeling. Very enjoyable, and surprisingly potent!
What is a dab? What is dabbing?
Dabbing is another form of vaporization. There are a few ways to do this. The first and most common way is using an electronic wax vape pen. These are usually the best way to go when trying to stay compact or discreet.
---