Coffee Mug Bowl | Wake and Bake
Wake and Bake Usable Coffee Mug Bowl is a type of coffee mug that has a pipe built into the mug. No longer will you need to make extra efforts to enjoy a full and productive morning. No longer will you need to think about your morning's most important routine! The mug is designed to look like a coffee mug, but the pipe is on the side of the mug, where you can load your cannabis. For many people, there is no better way to start the day than with a cup of coffee and a good bowl!
This may be a novelty coffee mug, but it functions fantastically. If you have someone in your life that loves to wake and bake, this is the perfect gift for them!
Microwave Safe
You can use your Wake and Bake Mug in the Microwave! But don't have the bowl packed if you do! It will decarb your flower, which isn't really something you're typically trying to do if you're smoking it.
Dishwasher Optional
Your dishes and/or dishwasher may smell like spring time ass and might even make a mess in there if you don't clean the residue out using a good cleaning solution.
Hot Liquid Safe
Hot tea, coffee, water, or if you're the kind of person to drink juice from a coffee mug… We don't know. It will hold hot or cold liquids with extreme awesomeness.
12 Oz Mug
The main body of this Coffee Mug Bowl will hold up to 12 ounces of liquid, however, if you fill it up to the full 12 ounces, you will only have just enough room to begin to sip from it.
Peer Approved
Stoners will show their approval of this mug on sight. You will have unbeatable street cred and reputation across the world with this thing. Be the envy of your neighbors and online rivals.
Show Your Love
Made by our very own Shawn Rudd with the official Utoya logo and his unique design!
People who bought this also buy: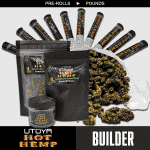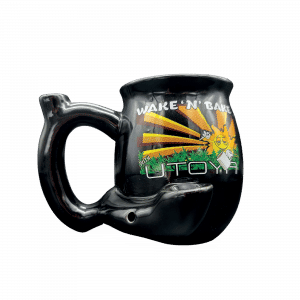 Holds up to 12 ounces of liquid
Holds one bowl of hemp flower / herbs
Full Ceramic Body/Base
Microwave Safe
Dishwasher Safe but Not Advised
Smooth Mouth Piece
Carb-cap for air-flow control
Lipped rim for superior sipping
Strong graphic to motivate you through your morning
How does it work?
The wake and bake Coffee Mug Bowl will function right out of the box. Give it a quick cleaning and ensure there are no particles left prior to using your new mug. Fill it with your liquid of choice, and pack a nice bowl in the pipe, and you'll be on your way! Detailed instructions are above.
Quick Start Instructions
Fill Coffee Mug Bowl with liquid (optional)
Fill bowl with flower

Pro-Tip: Use a glass Jack or Screen to prevent fall-through/scooby snacks

Sip, Smoke, Inhale, Exhale, Repeat Till Satisfied
Step-by-step instructions
Wake up, open your eyes
Remember you like Coffee and Weed when you wake up
Have your Coffee made on a timer, or, get your Keurig fired up, or your French Press, how ever you like to prepare your coffee.

Pro-Tip: Alexa can connect with your coffee maker, OR you can have it so if you have a basic coffee maker, you can just get a smart plug, and then you can have it be your timer or voice command mediator for your coffee maker.)

Fill This Wake and Bake Mug's Base with as much coffee as you like up to 12 ounces with no room for much of anything else
Pack the flower into the bowl part of the Wake and Bake Mug, located on the right-hand side of the mug.
Ready yourself for a good morning, and get a good breath in you.
Place your finger over the hole located on the side of the pipe's bowl, this hole is called the Carb Cap
Place your mouth onto the top of the handle where the mouth-piece is
Ignite your lighter and place the flame to the flower while inhaling, and be careful not to get too into it and spill coffee on yourself!
Inhale, Exhale, Drink, Repeat
What is Wake and Bake?
Wake and Bake is slang for smoking marijuana first thing in the morning. The term was popularized by the stoner film "Half Baked" and has since become a staple in cannabis culture. For many people, there is no better way to start the day than with a nice cup of coffee and some weed!
What is a "Wake and Bake Coffee Mug Bowl"?
A "Wake and Bake Coffee Mug Pipe" is a combination of a coffee mug and a hand pipe. It is meant for smoking hemp or cannabis flowers. This mug is largely enjoyed throughout the stoner culture. Now you can get it with this awesome and original Utoya artwork!