Description
New to us? This pack is one way to get acquainted with Utoya Delta 8, THC-O, HHC, CBD, and CBN!
The best Delta 8 sample kit around! You get a little bit of everything in our welcome sample pack to help you decide which products you would like to showcase in your store! Looking for something a little bigger in terms of a sample kit? Maybe you'd like our Taste of Utoya Sample Pack!
What's Inside:
What do you get with your Welcome Sample Pack from Utoya?
Delta 8 Dark Chocolate
These chocolates are made with 55.4% Dark Belgian chocolate and have an incredible taste to pair with an amazing and unique euphoria. Chocolate THC edibles are special because the chocolate is an excellent booster to endorphins, and it has special properties within it, such as anandamide.
Anandamide plays a role in the regulation of feeding behavior, and the neural generation of motivation and pleasure. Anandamide injected directly into the forebrain reward-related brain structure nucleus accumbens enhances the pleasurable responses of rats to a rewarding sucrose taste, and enhances food intake as well.
Delta 8 Organic Gummies
Utoya has a thing about giving you the best of the best, and these sweet edibles are not only tasty but are made with natural and organic ingredients, making them better than standard sugar-dominant gummies. You'll 3 of each type of our organic style gummies to get a good idea as to how they will feel!
THC-O Gummy Rings (Cherry)
You get to try some of our customer's most favorite varieties of gummies, these chewy gummy rings pack 50 mg of THC-O which is considered to be a very popular dose among THC-O consumers. These rings taste amazing and come in Blue Raspberry and Cherry! You'll get the cherry variety in this pack!
Delta 8 Get Krispy Treat
Gooey, delicious, and a crowd favorite for the last few months! You'll get to try a tasty square of our rice Krispy treats, branded as Get Krispy Treats, for you to try!
Entourage Candy Jumbo Fruit Slices
If candy is what you're after, then this sweet treat is perfect for you. These candies are sweeping the nation and it's no surprise either. This candy features 100 mg which is a considerable dose for most people! The Entourage blend comes in 3 types, Indica, Sativa, and Hybrid! These gummies will take you on the right path thanks to these awesome blends!
Delta 8 Flower
Utoya is rated #1 best hemp flower by InStash and rated the Best Full Spectrum flower by Austin Chronicle, and now you can taste why! You get three varieties of our flower products, including a Delta 8 Pre-roll made with the finest ground up premium indoor-grown hemp flower and shake, Moon Rocks with incredible kief, taste, and potency as well as a 2-gram sample of Utoya's Hot Hemp Delta 8 Flower.
Entourage Pre-rolls
These entourage pre-roll joints are awesome! Indica, Sativa, or Hybrid, no matter your choice, you're looking at a fantastic blend of Delta 8 THC, THC-O, HHC, CBD, CBG, and CBN with each blend bringing you one of the 3 well-known euphoria profiles! These 1 gram pre-rolls are packed with well-ground flowers and shake.
Entourage Indica Hash
If you grew up knowing about hash, or have become familiar with hash over the years, this hash will impress you. Seasoned delta-9 THC users enjoy this smoke session not only for the potency that it offers but for the unbeatable flavor! This Indica style hash is saturated in HHC, and paired perfectly with Delta 8 THC, THC-O, CBG, CBD, and CBN to make some incredible tasting and super potent hash!
3-Hour Chill Shot – Delta 8 Energy Drink
If you've ever had an energy drink of any kind before, you know it can cause a few feelings, including jitters, and crashes from the energy drink when it wears off. Utoya's Delta 8 Chill Shots are unique in the sense that you don't get a sugar rush, you don't get jitters as you would from normal caffeinated beverages, and you don't get a crash like you would with 90% of the energy drinks on the market, plus, it's infused with Delta 8 THC distillate and Full-Spectrum CBD
THC-O Super Sativa Energy Shot – Active – 50 mg
The 3-Hour chill shot works well, but when it comes to energy, THC-O is a powerful force that has its own commonly energizing effects. This all-natural plant-based energy drink is infused with the preferred 50 mg dose! You will get one of the three flavors depending on availability. They are Lemonade, Purple Haze, and Blue Widow. If you have a preference for one, let us know in the order notes!
Some items may not be sold in the quantities or sizes you receive as they are broken down to provide a sample.
x1 – 25 mg Chocolate Square (Single) 
x1 – 50 mg Chocolate Square (Single)
x1 – 75 mg Chocolate Square (Single)
x3 – 15 mg Organic Gummy Bears (Single Pieces)
x3 – 25 mg Organic Fruit Slice Gummies (Single Pieces) 
x3 – 40 mg Sour Gummy Worms (Single Pieces)
x1 – 100 mg Entourage Indica Jumbo Fruit Slice Candy (Single Piece)
x1 – 100 mg Entourage Hybrid Jumbo Fruit Slice Candy (Single Piece)
x1 – 100 mg Entourage Sativa Jumbo Fruit Slice Candy (Single Piece)
x1 – THC-O Gummy Rings (Cherry) (4 pack)
x1 – Get Krispy Treat
x1 – 2 Grams of Entourage Moon Rocks 
x1 – 2 Grams of Hot Hemp (Utoya's Delta 8 Flower)
x1 – 1/2 Gram of Entourage Indica Hash
x1 – Entourage Pre-roll – Hybrid
x1 – 1 Gram Entourage Hybrid 1 Gram Vape Cartridge
x1 – 3-Hour Chill Shot
x1 – THC-O Super Sativa Energy Shot – Active (50 mg)
Summary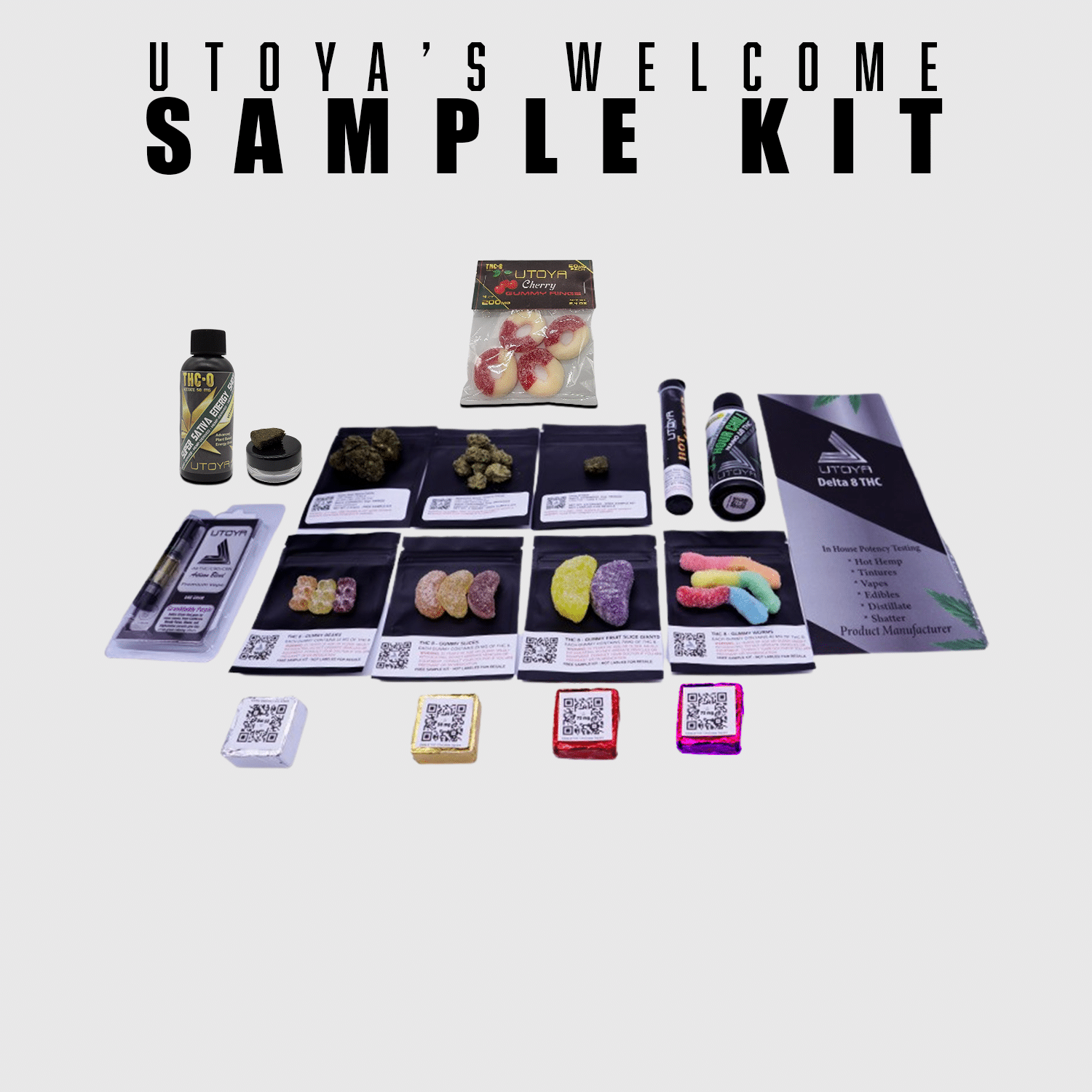 Author Rating
Brand Name
Product Name
Price
Product Availability