Description
Spa Massage Oil Infused with Full-Spectrum CBD
Utoya's complex CBD Massage Oil brings together nature's finest oils. These oils work in perfect harmony to complement any type of massage need or technique. Providing just the right balance of light, velvety smooth non-greasy hydration.  With extremely long-lasting slip and gliding action. All with the relaxing and healing qualities of Arnica. Through scientific research, it was discovered that arnica oil has anti-inflammatory and antimicrobial properties. Arnica oil helps with Bruises, sprains, and swelling due to fractures. Also beneficial for muscle aches, pulled muscles, spasms, and rheumatic pain.  CBD is used to reduce inflammation and relieve pain. Relax and enjoy this luxury product.
How Do CBD Topicals Work?
Cannabis-infused lotions, salves, oils, sprays, and other transdermal methods of relief work by binding the cannabinoids to cannabinoid receptors. These receptors are called CB1 and CB2 receptors and are found throughout the body. These receptors are activated either by the body's naturally-occurring endocannabinoids or by cannabis compounds known as cannabinoids and terpenes (e.g., THC, CBD, Beta-caryophyllene, etc.).
The graphic below shows the structure of our skin, and where cannabinoids are able to seep through and begin to interact with our endocannabinoid systems.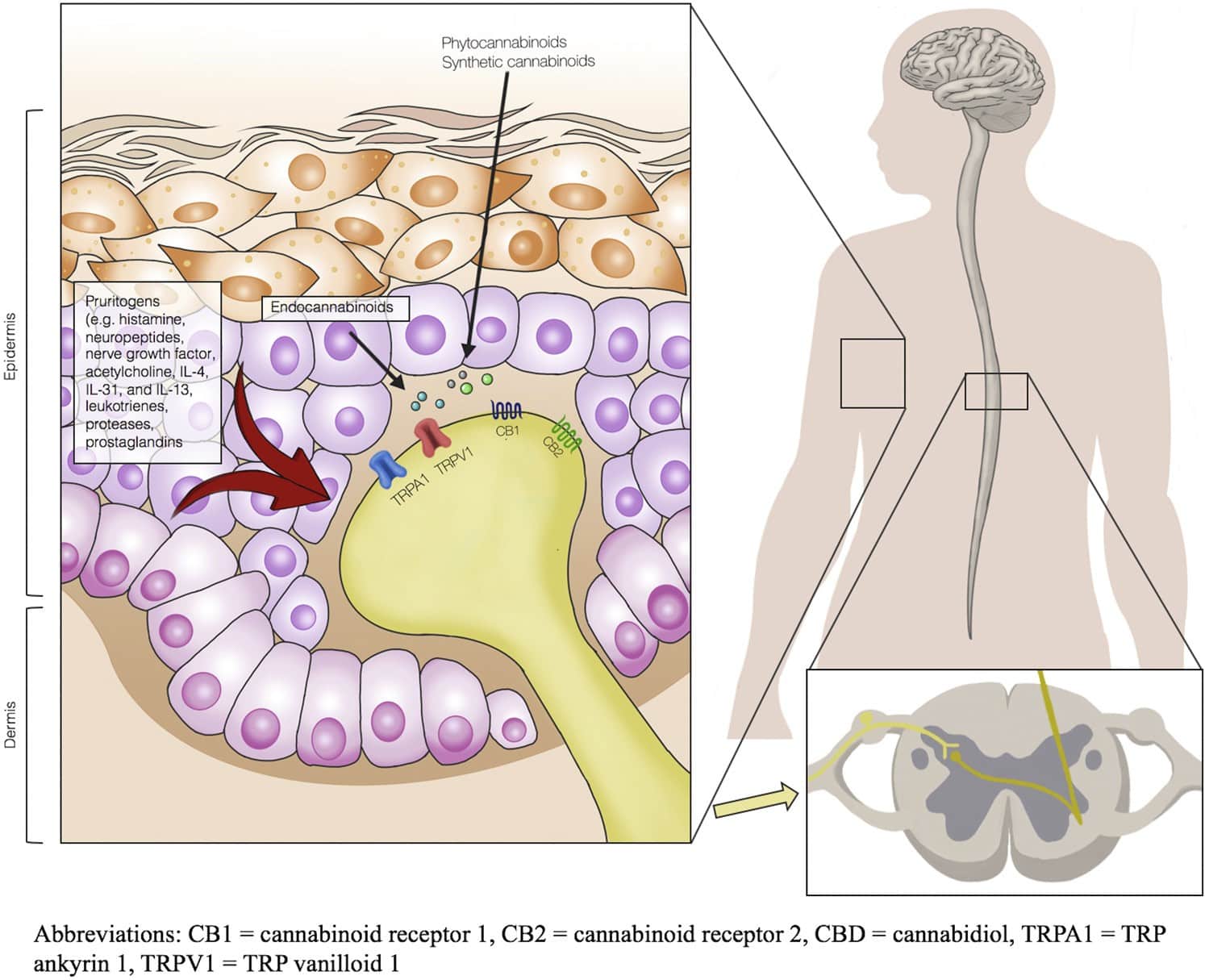 A rub infused with cooling menthol and peppermint is a great way to wind down from a workout or hike. Even if a topical contains active THC, it still won't induce that intense "high" or euphoria you might expect to get from smoking or ingesting cannabis.
With most topicals, cannabinoids can't breach the bloodstream; they only penetrate the local area for localized relief.
What is a Spa Massage Oil Infused with CBD topical most used for?
CBD Topicals are most popularly selected by consumers to address localized pain, muscle soreness, tension, and inflammation. Some anecdotal evidence is beginning to show a widening spectrum of potential benefits, from psoriasis, dermatitis, and itching to headaches and cramping.
Different topicals have different benefits to offer depending on the way they are processed and the ingredients that are used, so experiment with various transdermal products to see what works for you!
Active Ingredients
Safflower oil derived from the seeds of the Safflower plant, which is a relative of the Sunflower plant. The oil is said to stimulate circulation and even sensual desires. This oil is described as a hydrating oil.
Organic jojoba oil has anti-inflammatory properties that help to tame chaffing and chapping, reduce redness caused by drying, ease the effects of eczema and rosacea, and keep skin calm and comfortable. Vitamin E and B-complex vitamins in the Jojoba oil help in skin repair and damage control adding value to the massage oil.
Apricot kernel oil has antioxidant and anti-inflammatory properties. These therapeutic properties are possible due to the composition of the oil which is primarily Oleic acid and Linoleic acid
Sweet almond oil  – Thanks to Vitamin E, sweet almond oil keeps your skin cells healthy, protects your skin from UV radiation damage, and helps your skin look smooth, soft, and free of fine lines. The fatty acids help your skin retain moisture and can heal chapped and irritated skin. Plus, vitamin A can help reduce acne, therefore, it may prove useful for you depending on your skin.
Evening primrose oil primarily contains linoleic acid and GLA, both are essential components of myelin. Myelin is the protective coating around the nerve fibers, and the neuronal cell membrane.
Arnica – Arnica oil has anti-inflammatory and antimicrobial properties and is a great asset in massage oil.
Full-Spectrum CBD – Topical CBD products can help address pain or inflammation in a specific area of your body. The product will not enter your bloodstream through the skin.
Summary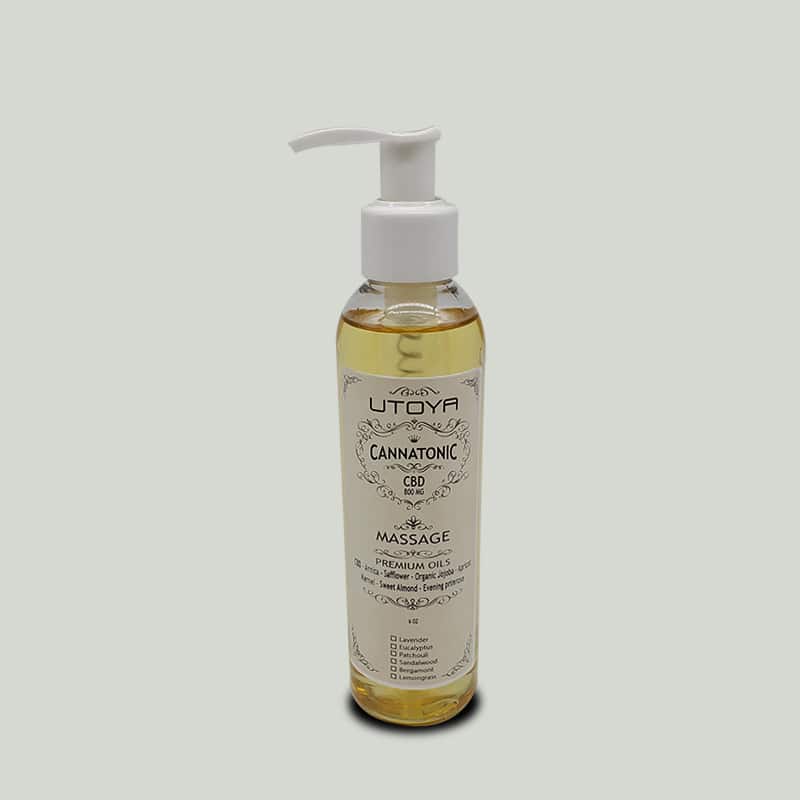 Author Rating
Brand Name
Product Name
CBD Massage Oil Infused With Full-Spectrum CBD (800 mg / 8 oz.)
Price
Product Availability