PSYCHOACTIVE CANNABINOIDS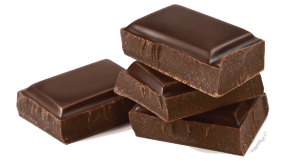 Tips
Suggested Use: Start Slow! Eat 1/4 to 1/2 of a gummy if you are new to consuming cannabinoids. Effects may take up to 1 hour to be noticed.
Ingredients: Unsweetened Chocolate, Sugar, Cocoa Butter, Soy Lecithin, Natural Vanilla Flavor, Hemp Derived Delta 8 THC Distillate (Contains Less Than 0.3% Delta 9 THC).

Note: Packaged in the same facility as peanuts, tree nuts, soy, and milk products.
How Much Should I Eat?
What's Inside The Chocolate?
Will This Chocolate Make Me Sleepy?
Will this Chocolate Keep Me Up?
How Much Should I Eat?
Start slow if this is your first time with an edible like this. If you are familiar with dispensary or medical Cannabis grade edibles, this may be more familiar to you and you can gauge a little easier. 
For example, if you have eaten a dispensary gummy, and you know that they sell 10mg gummies, and you know that you typically eat about 2 gummies to get the effect you want, then you will know that this gummy has about 50mg of cannabinoids overall, so you will want to start with about half a gummy.
No dose is perfect, there is no weight chart or guide to go by, as everything depends on you as a person. Your tolerance is unique to you!
What's Inside The Chocolate?
Will This Chocolate Make Me Sleepy?
Will this Chocolate Keep Me Up?
You must be 21 years of age or older to purchase this product. This product contains Delta 9 THC (D9 Tetrahydrocannabinol), HHC (Hexahydrocannabinol), THCP (Tetrahydracannabiphorol), and CBD (Cannabidiol) and is considered to be intoxicating. This product is psychoactive and euphoric. Do not operate heavy machinery, large equipment, or drive a vehicle while using this product or experiencing its effects. Consult your doctor prior to using cannabis/cannabinoid products if you are pregnant, nursing, or on any medications. This product is not intended to treat, diagnose, cure, or prevent any sicknesses, diseases, or known medical conditions. This product is not reviewed by the FDA. 
This product is made with Delta 9 THC, a psychoactive cannabinoid commonly associated with medical Cannabis and is paired with HHC and THCP. In common terms, this is a pretty strong little gummy and its effects can last for a good while too. If this is your first time using cannabis edibles, start with 1/4 to 1/2 of one gummy and wait one hour before deciding if you would like to try more. Remember: You can always have more, but you can't un-have more. If you find yourself feeling a little too high, you can use a CBD tincture to help reduce the euphoria and bring you back down to comfortable levels.