Powerful CBD Cream With OPTI MSM/CBD
Rub in deeply this OptiMSM™-rich, CBD-infused formula and feel awesome! This super-powered formula includes CBD organic aloe, organic coconut oil, soothing arnica, copaiba, and chamomile, with warming black pepper and cinnamon oils, and cooling eucalyptus, peppermint, and spearmint oils, plus so much more.
This product is perfect for high-end, results-oriented spa/massage experiences, and any comforting body care lines. OptiMSM™ sources its Methylsulfonylmethane from the USA- the only GRAS-designated, non-GMO, gluten-free, allergen-free, non-shellfish-derived, vegan MSM backed by extensive toxicology data.
Ingredients: Organic Aloe Leaf Juice, Organic Coconut Oil, MSM, Emulsifying Wax, Stearic Acid, Cetyl Alcohol, Hydroxyethyl Cellulose, Glycerin, Organic Arnica Flower Extract, Copaiba, Sweet Basil Leaf Oil, Black Pepper Oil, Roman Chamomile Flower Oil, German Chamomile Flower Oil, Cinnamon Leaf Oil, Citronella Oil, Eucalyptus Leaf Oil, Helichrysum Flower Oil, Ginger Root Oil, Pink Grapefruit Peel Oil, Juniper Berry Oil, Lemongrass Oil, Peppermint Oil, Lidocaine, Pine Needle Oil, Ravensara Oil, Rosemary Leaf Oil, Spearmint Oil, Wild Oregano Oil, Organic Cypress Oil, Sweet Fennel Oil, Lemon Peel Oil, Lavender Flower Oil, Organic Alcohol, Phenoxyethanol, Caprylyl Glycol, Sorbic Acid 125 mg of Full Spectrum CBD per ounce,
Directions for use: Apply liberally to tight muscles and aching joints. Avoid eyes and mucus membranes. Wash your hands after application. Do not apply to open wounds. Do not use near eyes. Do not use on or in nostrils. Do not ingest/consume.
How Do CBD Topicals Work?
Cannabis-infused lotions, salves, oils, sprays, and other transdermal methods of relief work by binding the cannabinoids to cannabinoid receptors. These receptors are called CB1 and CB2 receptors and are found throughout the body. These receptors are activated either by the body's naturally-occurring endocannabinoids or by cannabis compounds known as cannabinoids and terpenes (e.g., THC, CBD, Beta-caryophyllene, etc.).
The graphic below shows the structure of our skin, and where cannabinoids are able to seep through and begin to interact with our endocannabinoid systems.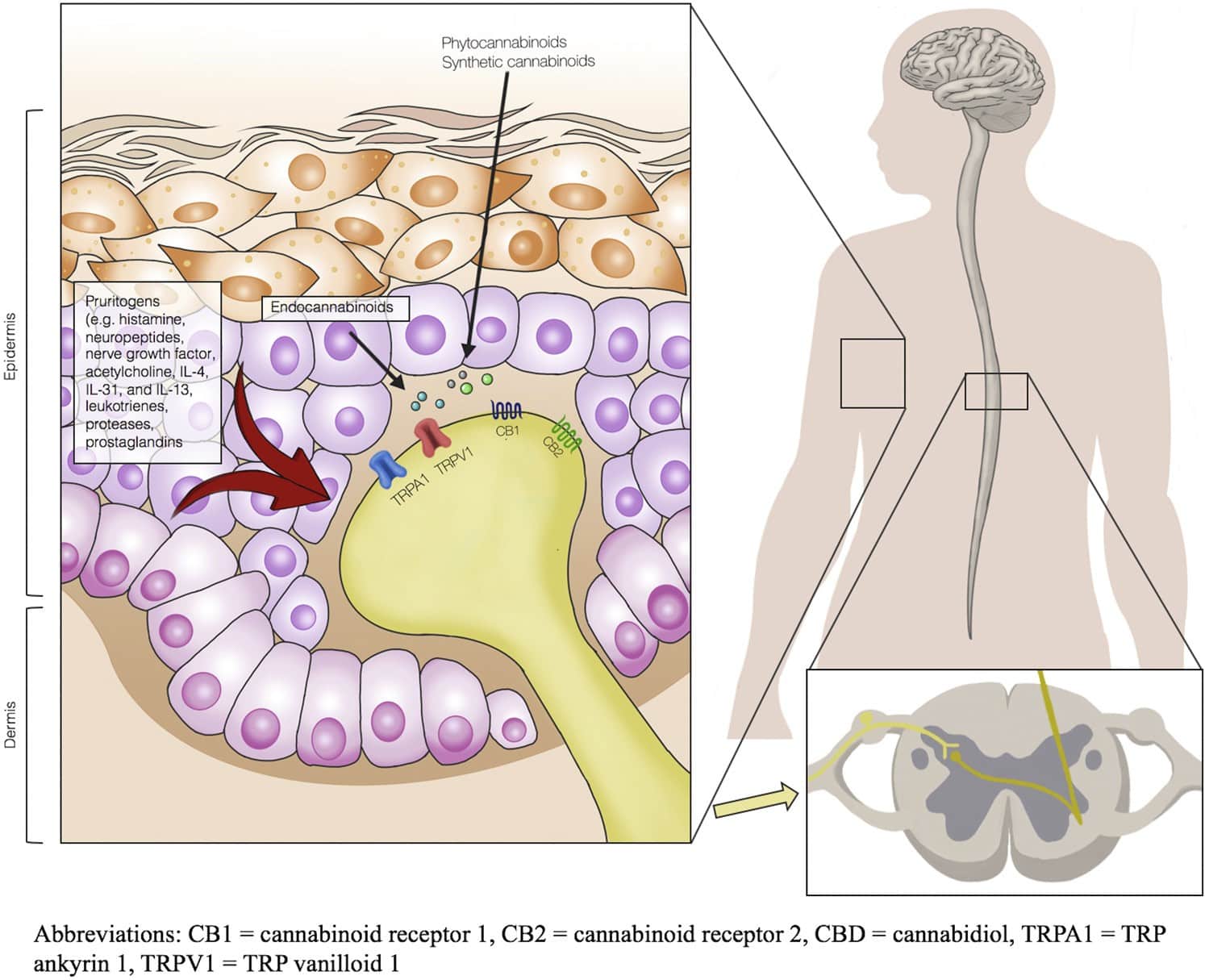 A rub infused with cooling menthol and peppermint is a great way to wind down. Even if a topical contains active THC, it still won't induce that intense "high" or euphoria you might expect to get from smoking or ingesting cannabis.
With most topicals, cannabinoids can't breach the bloodstream; they only penetrate the local area for localized relief.