The Best Delta 8 Flower You Can Buy Online
Delta 8 Flower is running rampant throughout the United States, and when it comes down to it, Utoya is in a vast amount of America's smoke shops selling our top tier delta 8 flower, even if that flower is under another label. People know and trust three things: taste, smell, and feeling. Utoya's delta 8 flower is consistently delivering these desirable traits complete with third-party lab testing.  
Read more about how Utoya ranks number one across the nation for Delta 8 flower and Moon Rocks.
Utoya's Delta 8 Flower Rated Number 1 In The Nation
Delta 8 THC, it's still a bit fresh on the tips of everyone's tongues, but its history is already being established. Delta 8 THC sprayed hemp flower has been all over the industry marketplace, and it seems like everywhere you turn, you can find a new Delta 8 company pushing out products. So why is Utoya performing so well? Why is Utoya's Hot Hemp staying on top of the reviews? What is the big secret to Utoya's success with Hot Hemp?
Let's briefly explore how Delta 8 started in our industry, and where it is at today. 
Delta 8 And Smoke Shop History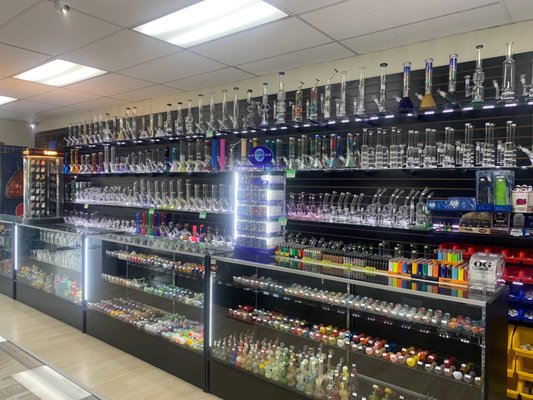 It wasn't long after the boom in the CBD Industry that Delta 8 got its popularity to increase, and with that, a slew of new manufacturers, retail spots, and individuals representing the new cannabinoid in their products. 
Though Delta 8 has been around since the early 90s, it's was not immediately clear to us how it would be applicable for us in that day and age, and so it was generally just ignored and left to the side until early 2018 where it first began to become more explored. It was in 2019 and 2020 when it got more attention and began to become more popular.
Early Stages Of Delta 8 Product Development
Because Delta 8 had not been so widely used, many manufacturers and chemists only had hints and clues on how to handle this new cannabinoid. It was not long before we saw concern growing in the public over solvents and additives being present in their products on top of metals, toxins, and pesticides. Some even questioned whether or not the cannabinoid would remain legal or was even real, to begin with.
How Delta 8 is made 
While Delta 8 THC can be extracted in many different ways, the most common and federally compliant method is by converting CBD Isolate to Delta 8 THC using chemistry.
Delta 8 is not found in high concentrations naturally so it must undergo a chemical reaction to create large quantities of it. The resulting product is an almost pink yellow rose-colored D8 THC Distillate Oil. 
The public grew weary, and many early adopters quickly stopped partaking in Delta 8 and even began to warn new users about the dangers until something could be done about its quality control and cleanliness. 
Online communities began to grow in interest for Delta 8, and voices slowly built up, who were calling out companies left and right accusing them of using dangerous solvents and additives. Requesting certificates of analysis for products. A lot of companies would tell the staff of those communities that they would not test post-production for any number of reasons that could be given. Among the most common was not knowing which labs they could trust to provide detailed and more importantly, accurate lab results. It was not until recently that laboratories began to announce efficiency measures in testing for potency as well as proper cleanliness testing. It is not unfamiliar to the hemp and cannabis industry.
The hemp/cannabis market had become flush with oddly colored cannabinoid extracts; purples and pinks were prevalent. It was bothersome to a number of people and enticing to few others. 
Utoya would not produce with any of these colorful extracts, knowing the risk it posed to its consumers.
According to Global Newswire: 
Thousands of CBD and Delta 8 THC Products Contaminated With Bleach Warns Industry Experts

Producers who are used to making products using CBD distillate normally look for the distillate liquid being clear as a sign of quality. However, Delta 8 Distillate is naturally a rose color and requires bleaching agents to make it clear. As Julie Helmer, CoO at Freshbros put it:

The color variations relate to the pH level and different acid activated media used as bleaching agents used to remove the color from the distillate. This causes the pH level to be acidic, which makes the product unstable. Over time, the distillate will turn pink and even purple. The lack of color in Delta-8 distillate is popular and is desired in the industry. However, if you are going to smoke Delta-8 distillate in a vape cart, keep in mind there is likely some of the bleaching acid still present, which I, personally wouldn't want to inhale. Who wants to smoke bleach?"
Soon, companies became quiet, unsure of how to respond, and clutching onto their customers who would still buy delta 8 despite this knowledge. 
Utoya's Answer To Delta 8 Concerns
Utoya saw this trend and immediately recognized the need for a clean, solvent-free product. One that didn't produce harsh or bad tastes, and most importantly, a product that wasn't dangerous to the consumer. 
So what is it that Utoya did to make their Hot Hemp so successful? The secret is simple. We use CBD-derived Delta 8 distillate that is not bleached or clear, and refusing to use solvents such as alcohol, MCT, PG/VG, vitamin E, Olive Oil, etc. as a means of decreasing the products natural viscosity. 
Many of these solvents can be found in a lot of our competitor's products.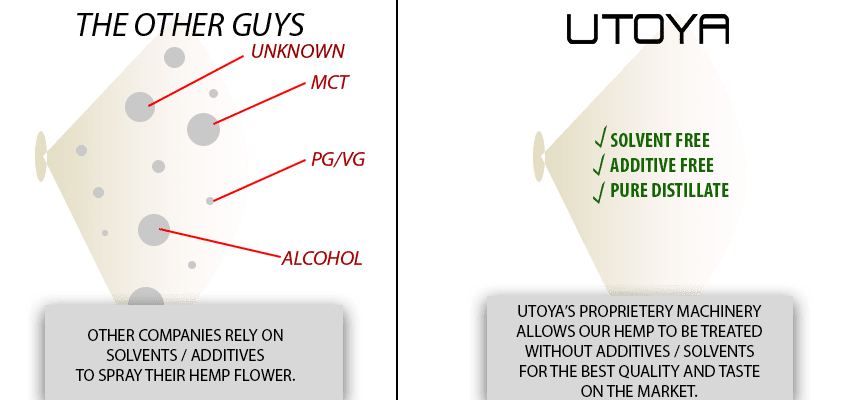 Utoya has a proprietary machine that allows the team to carefully and effectively spray Delta 8 without the use of any solvents or any additives. This machinery is highly complex, and we will not be covering its build details, but it is safe to say the equipment is specially designed to ensure a clean, balanced treatment to all of Utoya's specially selected hemp flowers, turning it into Hot Hemp.
Utoya pays close attention to the distillate sources and provides certificates of analysis on all of its products as well as on our website with each of the products. We look for any discolorations, we check potency, and we ensure that our extraction artists and labs are accurate with their processes. 
In conclusion, it can be safely said that when it comes to Delta 8 THC products, quality, and safe consumption, Utoya is your number one choice in premium hemp products.
Watch Our Video About Delta 8 Flower
Are you looking for more information? Are you a smoke shop that is interested in carrying our products? Are you someone interested in becoming a distributor? Let us know!