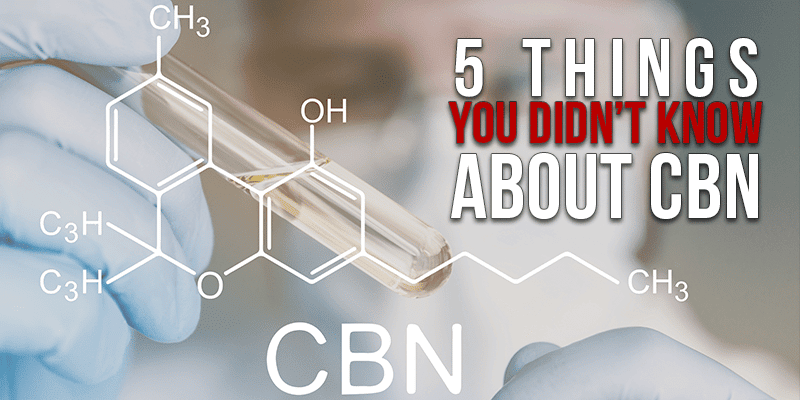 CBN or Cannabinol is showing up all over the hemp industry as a major cannabinoid to be excited about, and yet, its presence in the natural world is generally low.
Let's go through 5 things you didn't know about CBN! If you knew any of these, leave a comment and tell us which one you knew already!
CBN Is The "Sleepy Cannabinoid"
Cannabinol has often been deemed the "sleepy cannabinoid", though it stands to note that while it bears this title, it does not exactly ring 100% true.
CBN is incredibly synergistic with THC (Tetrahydrocannabinol). As it turns out, Cannabinol is what is left after THC has aged enough to break down.
It is interesting that it is for this reason you will find some people actively seeking aged flowers, because they believe the cannabinoids that are in there will do more for them, and while they aren't wrong, it's simply from the newly acquired presence of CBN interacting with THC molecules, giving them a much stronger couch-lock sort of buzz.
The synergy between THC and CBN is what gives this cannabinoid the title of "The Sleepy Cannabinoid".
You can try our new Delta 8, CBD, and CBN Tinctures and D8/CBD/CBN Artisan Vapes to get an amazing night's sleep, and feel great too!
CBN is not available in high concentrations in fresh flowers
Cannabinol is not overly present, as it is not the first cannabinoid that is produced. This cannabinoid is made from aged THC molecules that have had enough oxidization and degradation. It is for this reason that it is harvested from older crops.
Cannabinol is not at all intoxicating
By itself, cannabinol doesn't produce much euphoria or buzz at all, however, some researchers have shown that using 5 mg of CBN compares in its relaxing effects to 5 mg to 10 mg of Valium or Diazepam.
CBN Was Discovered in the 1940s
This amazing cannabinoid isn't new to us, but it is becoming more and more prominent in the hemp industry. It was discovered by British chemist Robert S. Kahn in 1940. It was actually just 2 years later, that American chemist Roger Adams made history when he discovered CBD (Cannabidiol) in 1942.
Cannabinol Activates both CB1 and CB2 Receptors
Unlike THC, CBN has no double-bond isomers nor stereoisomers. Both THC and CBN are able to activate the CB1 and CB2 receptors throughout the human body, though it does have a preference to interact with CB2 receptors.