Celebrities Who Use CBD - Which Celebrities Use CBD?
Nate Diaz smoked a CBD cigarette at his UFC open workout (Image: GETTY/ESPN TWITTER)
From Nate Diaz smoking CBD in his post-fight press conferences to Gwyneth Paltrow promoting CBD-infused cocktails on her high-traffic wellness site Goop; Celebrities are talking about this new health trend.
This year's increase in outspoken stars put CBD in front of millions of Americans. Celebrities who use CBD are bringing awareness to what it is and how it can be used. CBD has become popular as a trendy functional/wellness product and an alternative solution to more severe medical conditions.
Back when the hemp industry kept a low profile, tinctures dominated the market as the primary delivery system
A-listers like Jennifer Aniston, Olivia Wilde, Kristen Bell, Drew Barrymore, and Kate Hudson – all championing the magic of CBD.  These celebrities have spoken about how they use it to relieve anxiety, pain from everyday workouts, and even extended use of high heels. As the conversation grows celebrities are generating buzz about their favorite brands and informing consumers about what's trending.
Their voices have been chipping away at the CBD stigma.
Jennifer Aniston – US Weekly – CBD helps with pain stress anxiety.
Product Innovation
In the past few years, product innovation has driven growth in other areas: consumers are now enjoying CBD edibles, drinks, and beauty products.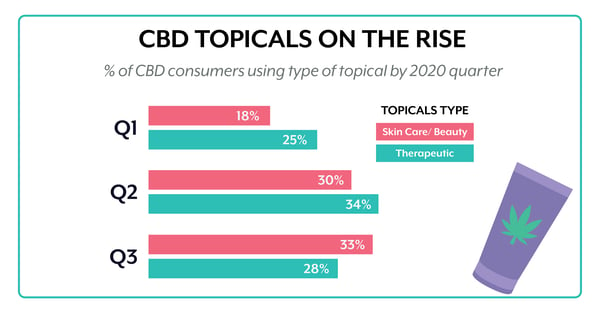 Much of the new celebrity attention on CBD is focused on its potential for sports medicine and beauty products. In fact, beauty & skincare revenues grew nearly 340% in 2018 from just under $4 million in 2017 to over $17 million in 2018. Tinctures remain the biggest seller at 35 percent (down from 46 percent in 2017), but these innovative products are eating into their market share. Natural food stores, quick to shelve the latest wellness products, saw a 9 percent bump in sales, hitting 29 percent.
According to Brightfield Group data, consumers in the Midwest and Northeast use CBD products at least two to four times per week, with a quarter using it daily. The western regions are more casual use, with 21 percent using the product a few times per year. 50 percent of the west use it once per week or less.
Among users in the Midwest, Northeast, and Southeast, CBD-infused drinks have gained more traction than in the west region. With the total market size nearly doubling in the meantime, the significant growth has distributors increasing their output.
What does all of this mean?
The support of celebrities with extensive reach and an eye for trends bodes well. In an industry developed largely on word-of-mouth marketing, celebrities, and their press coverage have been indispensable to advertising teams. In light of the Farm Act of 2018, Brightfield Group expects to see much more celebrity endorsements and athlete sponsorships by CBD companies. With every personality who uses their resources to promote the many benefits of CBD use, the number of consumers interested in and accepting of this new solution will grow.
The future looks good. Very good.