This is important to see! Portland, Oregon has opened up something unique and it's gonna be a big thing to see in plenty more states as things start to get going.
Utoya has seen a number of innovative and creative ways to distribute hemp here and all over the United States. We've interviewed quite a few of them on our live show!
At this location in Portland, Oregon, you can buy cannabis from the Hemp Bar. And yes, you can smoke that cannabis on the patio of Hemp Bar. But the Hemp Bar is neither a dispensary nor a consumption club. It is Portland's first cannabis café. Sort of.
At first look, East Fork Cultivars' flagship brick-and-mortar looks like a typical Portland juice bar, but cross the threshold and you'll also find a place where consumers can buy and smoke weed, with one caveat: Everything is hemp.
The only difference between cultivated nugs of dispensary weed and hemp flower is the amount of delta-9 THC contained in each and some differences in cannabinoid growth potentials, variants, and so forth.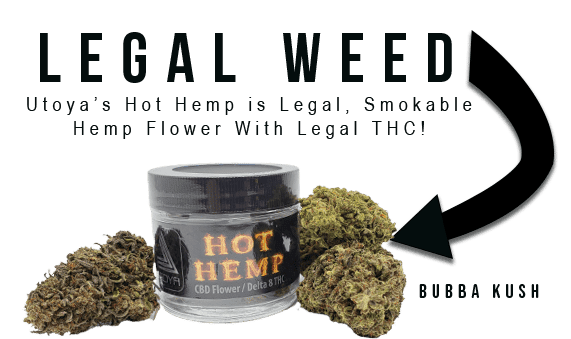 The Difference Between Hemp and Medical Marijuana / Weed
Hemp, as defined by the federal government, contains less than 0.3% while remaining high in CBD. But there's no taxonomic difference between what we consider hemp and what we consider cannabis. They are both a part of the same plant family and share very many of the same properties and cannabinoids.
Sure, one is federally legal and the other varies state by state and is ultimately federally illegal. Scientifically, though, they are essentially the same thing and more people are coming to learn that! It's a lot like the difference between hard liquor, wine, and beer. Medical marijuana is the hard liquor, the beer is hemp, and wine is a little more like Delta 8 flower.
So when I asked the server behind the polished wood counter how "the whole weed thing works" and they replied something akin to, "Smoke 'em if you got 'em but keep it on the patio,". I nodded my head in understanding and proceeded to do just that, which is exactly how my homegirl and I came to spend the better part of two hours sipping CBD mocktails and puffing pre-rolls in clear view of one of Foster Road's busiest intersections.
Here are the questions we asked each other as we settled into our inaugural stoner-lady mocktail brunch date at the city's first and only neighborhood cannabis cafe, and also the reasons we were both excited to return.
What Is The Difference Between a Hemp Bar and a Cannabis Club?
Unlike the concealed and more secret entryways to the city's few cannabis clubs, Hemp Bar's storefront is a welcoming, cornflower blue corner unit with floor-to-ceiling windows that show off glassy reclaimed wood countertops, Gatsby-esque hand-painted wallpaper, and the felted retro menu board of a modest neighborhood cafe. The only marked difference between this and other neighborhood hangs are the fat nugs of East Fork cannabis in countertop display bottles.
But Hemp Bar is neither a dispensary nor a private cannabis club. The hemp-derived CBD is simply a featured product in its cafe repertoire, not unlike any other fashionable wellness boutique, contemporary coffeehouse, or bohemian juice stand. The cafe simply goes a step further than most by not just adding water-soluble CBD to the mocktails, but by also selling the flower those extracts are sourced from and encouraging customers to light up at their leisure—so long as they keep it confined to the cafe's lemon yellow, outdoor bistro tables.
While cannabis clubs typically require annual subscription fees as well as daily cover charges, Hemp Bar operates with open-door ease. Furthermore, cannabis club sipping and snacking options typically limit you to a parking lot food truck or an assortment of convenience-store munchies. Hemp Bar's menu is a thoughtful assemblage of vegan coffeehouse grab-and-go fares like Higher Taste hoagies and Gluten-Free Gem pastries, as well as a deliberately designed collection of CBD mocktails.
While it's frowned upon to light up a blunt and just kick it in front of a cannabis club, Hemp Bar downright encourages it, even selling locally made Sway hemp blunts from behind the bar.
Is Hemp Bar Family Friendly?
The shop operates just as a walk-up juice bar or coffeehouse, and each housemade drink features an optional 10 mg of CBD. But there are also a few unmedicated beverages as well, like kombucha and a full slate of Steven Smith teas.
Though Hemp Bar has the potential, it's not quite the family-friendly neighborhood hang spot it could be—or will be soon. The stylish yet sparse interior still has a COVID-era gloss that low-key deters a long hang, although there are plenty of stools where one inclined to sidle up to the bar for a while. But the sidewalk cafe tables make up for the less than cozy interior space, as evidenced by how long my buddy and I posted up there.
Though it was the founder's intention for the Hemp Bar to vibrate at the same frequency as an Amsterdam-style coffeehouse, the result is more Portland pretentious than posh international weed den. But speaking as a pretentious domestic pothead myself, Hemp Bar offers a refreshing take on what cannabis users actually want in a safe consumption space. Yes, you can roll up with a baby in your Björn, order a CBD cold brew and a Sway blunt and then bounce without any judgy side-eyes.
Who Is the Hemp Bar For?
Once my companion and I ordered our first round of CBD mocktails and took our seats outside, the shape of Hemp Bar began to come into sharper focus. Each of the four signature mocktails felt assembled for both a consummate cocktail enthusiast and a vegan on a juice cleanse. The Cocomo is a perfectly foamy interpretation of a classic daiquiri, and the Strawberry Basil Smash was a bright, fresh homage to a summer garden. The lemon and lavender Purple Llama was refreshingly fizzy, and the Orange Fire simmered with ginger and a flash of cayenne. Each drink had a satisfying balance of therapeutic botanicals and theatrical, mixologist flash. You will find a soothing, dazzling, and blissful experience here.
We took our seat in front of the shop, our conversation intermittently drowned by the busy traffic of Foster, snacking on salted and fried fava beans—which the server suggested as the fatty beans help the body absorb CBD—we selected the Hemp Bar felt like it was designed for us: contemporary adult cannabis users who appreciate both a surreptitious canna-lounge and a breezily uncluttered neighborhood juice joint, and certainly wouldn't mind seeing the two concepts come together in a way that supports long, cozy hangout sessions.
Hemp Bar certainly delivers on that basic concept, but my intuition tells me that it will deliver its goods with more savoir-faire as the cafe matures. In the meantime, I recommend you pick up some CBD flower from behind the bar, order a Cocomo, settle yourself at a table, light up and enjoy.
Visit This Hemp Bar Yourself In Portland Oregon: 
Hemp Bar
6258 SE Foster Road
Portland, OR 97206
503-477-7183
hempbarportland.com
11 am-7 pm Tuesday-Sunday.
Must be 16+ to purchase hemp products.
Original Article Can Be Ready By Author: Brianna Wheeler on The Potlander Under the original Title: "Hemp Bar Purports to Be Portland's First Low-THC Cannabis Cafe. Should Stoners Make the Trip?" – Reauthored by Joseph Edwards.